Family Dining: Cabo Fish Taco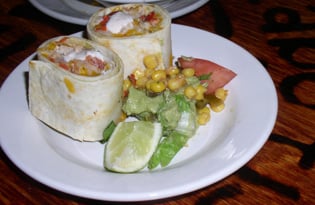 It's no-fuss, colorful fun at Cabo Fish Taco. The NoDa restaurant serves up coastal Mexican cuisine with a healthy California twist.
Dinner or lunch, weekday or weekend, the place is buzzing with families, young singles and couples on a date. Surfboards and brightly colored paintings decorate the recently enlarged space, and TVs showcase nonstop surfing, snowboarding or skateboarding – a definite attention-grabber for kids.
The idea of a fish taco may get an "eww" from the family tykes, but no worries. Chicken and steak tacos, cheese quesadillas and popcorn shrimp balance the a menu of barbecue mahi-mahi and honey wasabi tuna, giving children and parents each something to like.
Fresh tomato-and-corn salsa and lightly salted tortilla chips are served on arrival. As appetizers, our brood chose the queso dip – a favorite with the kids – and the Cabo Rolls stuffed with blackened shrimp and crab meat rolled sushi style with roasted red peppers and mixed cheeses, and served with fresh, homemade guacamole.
The menu includes a list of salads, entrees, burritos and wraps (and superb margaritas), but my group opted for tacos. Cabo's signature taco plates come with two flour tortillas filled with cabbage, tomato, avocado, mixed cheeses, served with a choice of beer-battered white fish, shrimp or mahi-mahi; lemon grilled tuna, steak or chicken. The real signature to the tacos, however, is the white cilantro sauce drizzled on top. We asked for extra at our table.
Tacos are served with a choice of black beans and rice, Baja rice, refried beans, mashers, jalapeno and cheese mashers, mexi-slaw or nopalito salad, or can be ordered a la carte.
I had a specialty barbecue mahi taco, which was tangy, but not too sweet, as well as the tavarua tuna taco rubbed in a kiwi-pineapple fajita sauce and topped with a honey wasabi sauce, served with the Baja rice, which is rice topped with a mango and pineapple salsa. We also ordered the daily special, which was beer-battered grouper tacos, served with black beans and rice. All was delicious!
The youngest in our group opted for chicken tacos and mashers with cheese (no jalapenos), and she particularly liked the special white cilantro sauce. Did I mention we ordered extra?
THE CHOW DOWN
Cabo Fish Taco, 3201 N. Davidson St.
Dollar Deal: $3.95-$15.95
Décor/Atmosphere: Colorful, festive with outdoor seating.
Kids' Menu: $4.25 for cheese quesadilla or popcorn shrimp with a side. $3.25 a la carte tacos.
Amenities: High chairs and boosters; no changing stations in restrooms.
Got Milk/Juice: Yes
Phone: 704-332-8868
Website: www.cabofishtaco.com