Family Bonding & Safety Activity: Swim Lessons With Your Little One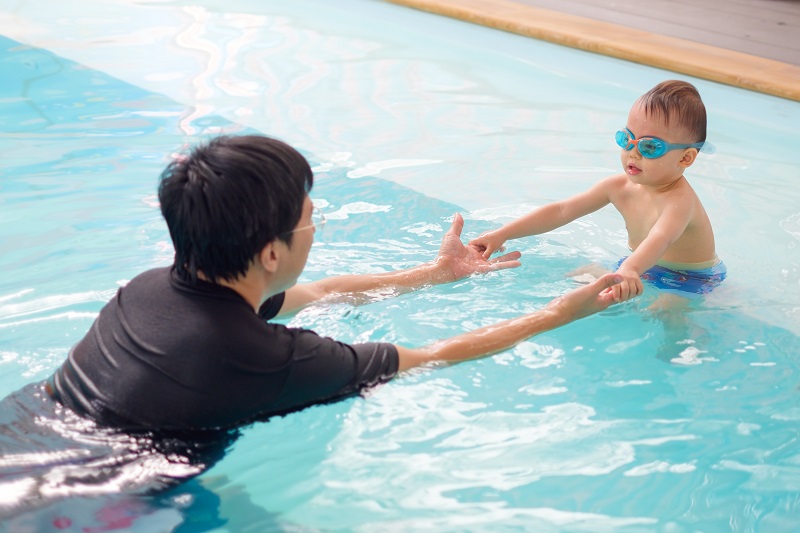 With drownings a growing concern for Charlotte parents, there is no better time than the winter and spring months for kids of all ages to brush up on swim skills. Parents can join their children as young as 6 months old at local YMCA swim lessons.
Three children drown every day in the United States.
Many parents in Charlotte are not new to drowning fears—in recent years, too many days spent on Lakes Norman and Wylie have had tragic endings.
However, the good news is that drowning can often be prevented.
Swim lessons are a vital, life-saving activity that makes every kid (and adult) safer around water.
Children can learn to swim as young as 6 months old
Is your child too young to learn to swim alone? Infants as young as 6 months old can learn to swim at the Parent and Child-oriented swim classes offered at all the Charlotte-area YMCA locations.
These sessions ensure your child has quality time with a parent in the water, helping your child build their confidence as well as the early skills needed to be safe as they grow into more autonomous swimmers.
Even toddlers and elementary school-aged children who swam last summer could become safer around pools and waterparks with swim lessons this spring. With your child refreshing their swim skills over the winter and spring months, you can be confident they will be safe when water fun is at its peak this summer.
The whole family can learn to swim together
Parents who can't swim often feel particularly nervous about their children learning to swim, preferring to avoid water altogether.
All Charlotte-area YMCAs offer swim lessons for both children and adults, making everybody safer and opening up the world of water fun to the whole family. The Y's swim lessons are designed to meet you or your child at your current levels and teach skills that provide fun, fitness, and safety for a lifetime.
February and March are a great time to begin swim lessons, especially if you have aquatic activities on the family schedule this summer. Click here to register your child now at one of the local YMCAs' convenient indoor pools. Popular sessions fill up fast.