Fall Favorites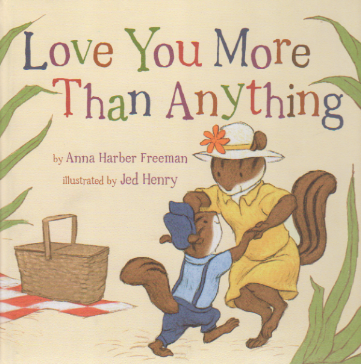 Autumn is just around the corner, bringing with it colorful leaves, crisp apples, busy squirrels, and a harvest of new books at the library!  Here are some choices that are just right for this season.
Love You More Than Anything by Anna Harber Freeman is a delightful bedtime story for babies and toddlers.  Playful illustrations show a chipmunk family spending a busy day together, playing games, scribbling with chalk, enjoying a picnic and reading stories.  The rhyming text has a gentle, lullaby-like quality and offers a reassuring message of love to little ones.
In The Apple Orchard Riddle by Margaret McNamara, a class learns all about apples while on a school field trip.  They discover different apple varieties, watch apple cider being made, and try to solve the riddle of "little red house" given by their teacher.  This preschool-friendly picture book might just inspire your own apple-picking adventure!
Young crafters will find clever ideas in Super Simple Leaf Projects by Kelly Doudna.  This book teaches the best way to collect, press and preserve leaves, and gives instructions for making decorative candles, placemats and more using colorful fall foliage.  Activities are appropriate for ages 5-10 with the help of an adult.
Upper elementary readers will enjoy the uniquely funny chapter book Nuts to You by Lynne Rae Perkins. When a squirrel named Jed manages to escape from a hawk in midair, he finds himself far from home.  He gets to know how other communities of squirrels live, but also discovers the humans that threaten their forest homes.  This is a heartwarming survival story, but the antics of the squirrels provide lots of laughs.
You can find these books and more at your local branch of Charlotte Mecklenburg Library!