Factors to Consider Before You Adopt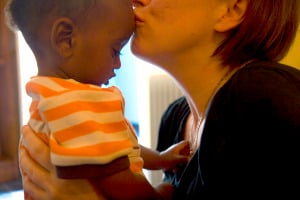 Considering adoption? Confused? Wondering which way to go and what path to take? The best place to begin your adoption journey is with education. Adoption education now comes in many forms – adoption support groups (SPAFA), Internet surfing, magazine articles, adoptive parent blogs, social networking sites and groups. Take advantage of all the education you can glean before you "sign on the dotted line" with any adoption provider.
If you can envision yourself in a classroom, we'll call our class Adoption 101. When you start on a serious path to adopt a child, the first step you take is to think of the child that best fits into your home. There are several factors you should consider: age of child/baby, race, gender, time frame and budget.
Age of Child/Baby
Most families begin by envisioning the child they see fitting into their home. Perhaps you have longed for the newborn/infant experience. If so, you can be successful most easily with a domestic (U.S.) adoption. Most adoption providers in the United States focus primarily on the newborn/infant placement. If you prefer a toddler to a school-aged child, consider either the foster-to-adopt programs in your state or international adoption.
Race
This is such a tough topic for families to address. It is critical that you are honest about the race or races of a child that would maturate in with your family. Some families want to adopt children of their same racial composition, if so, that is fine, seek the adoption provider that will assist you with a same-race placement. Other families come to adoption desiring a child of another race to help grow their family's cultural base. Some families are drawn to a specific country because of its culture.
For North Carolinian Alison Aucoin, an international adoption was an obvious choice. "Two close friends adopted from Ethiopia and have had very good experiences. Plus, my masters degree is in international health and development with a focus on HIV/AIDS," says the single parent. "My time in grad school offered a lot of opportunity to learn about and emotionally connect with Africa and Ethiopia in particular. Ultimately it was where my heart was pulled. I never seriously considered domestic adoption or any other country," she adds.
Gender
If you are specific to a boy or a girl, you will find you can request a specific gender most easily through the foster-to-adopt or international adoption programs. For example, there are more girls available in China than there are boys … not the same with Russia where there are typically more boys available than girls. The foster-to-adopt system also can help you locate sibling groups because the goal is not to divide an intact family of siblings. If you are race-specific, be sure to identify and again, be honest with your adoption provider about your preferences.
Time frame
How soon do you want to be a parent through adoption? If you say immediately, that is not an impossible task. If you are open on race, gender, budget and travel – you can easily adopt in less than three months in the United States. If you prefer to have a longer wait time, you should establish what works best for your family. Many people forget that biology still requires nine months to produce a baby. When families come into the adoption process after a lengthy infertility run, they have thought for months and months about being a mommy or a daddy. To be told they may have to wait for several years to realize their dreams, sets them back emotionally.
Budget
You need to be realistic about your finances. If you have limited funds, it would be wise for you to consider foster-to-adopt. If you want a private domestic or international adoption, there are many more costs involved in the process. Most private adoptions are running from $20,000 to $35,000. So be sure to look at your funding sources and be realistic about your ability to finance your adoption plan. The IRS still awards an adoption tax credit. You will want to review the conditions for that tax credit (www.irs.gov) to decide if your family would qualify.
For Aucoin, knowing her child's history made her adoption so much more special. "A family in Ethiopia, suffering a tragic circumstance, had faith that by letting my daughter go, this amazing child would have a better life with a family somewhere in the world. In raising Ella, I am not only creating the best life I can for her, I am honoring her birth family's faith," she says.
Now you are armed with the "basics" of your adoption planning efforts. Be a good student of adoption and educate yourself – before long you will graduate to Parenting 101.
Author Diane Hogan is with A Step Ahead Adoption Services, www.astepaheadadoption.com.