Escape the City at New River State Park
Camp, float, fish and explore along the banks of the New River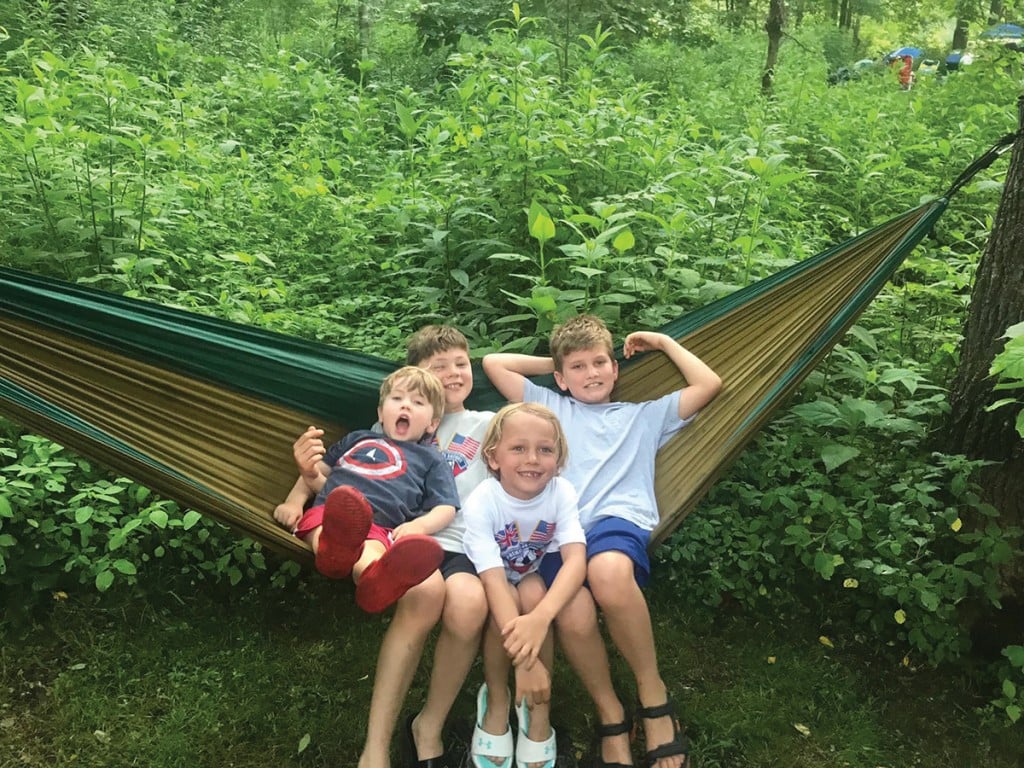 Buckeye Chestnut trees and the rushing sound of the New River make for a tranquil getaway from hot summer days in the city. Located in Ashe County, North Carolina, New River State Park is a two-hour drive from Charlotte, and offers opportunities to canoe, tube, fish, hike and explore. There are 14 non-electric, walk-in campsites available at the U.S. 221 Access and 10 available at Wagoner Access. Tent campsites at the Wagoner Access are shady and complete with a fire ring, picnic table and designated tent pads, and can accommodate up to six people with a maximum of three tents.
From the parking lot to campsites is approximately a 250-yard walk (2.5 football fields). Bucket-style wheelbarrows are provided to load and maneuver gear to and from campsites. The campground also has a well-kept bathhouse with hot showers. All sites can be reserved in advance.
Numerous outfitters in the area can provide canoes, kayaks or tubes for a float down the New River — the second oldest river in the world — or bring your own. A short drive from the campground, along Bill Bledsoe Road, are a few different access points to put in canoes or tubes for a leisurely float back to the camp site
My crew of eight, including a 3-year-old, enjoyed a 2.5-hour float in inflatable tubes that we brought. Along the way we enjoyed small rapids, dips in the river, boulders for climbing and majestic views of the surrounding green hillsides. A listing of estimated river mileage and paddling times between canoe access sites can be found at the New River State Park website. Always check with the park rangers on water levels before venturing on your own as water levels can change fast with heavy rains.
River Lessons
If fishing is a favorite family activity, bring your tackle. Fishing is easily accessible at the park's canoe ramp or you can fish from the banks and rocks along trails throughout the park. Cast a line to catch a Smallmouth or Redeye Bass, as well as Rainbow Trout. Swimming is also an option, but keep kids in life jackets and an adult on site.
Kids can be water scientists by checking out an aquatic sampling kit from the ranger station. The purpose of the activity is for children and adults to explore beneath the water and under rocks to learn about the importance of the aquatic food chain, as well as the need to keep public water clean for all wildlife — the ones you can see and others we don't normally see, says park ranger Doug Blatny.
For example, a mayfly larvae is very sensitive to pollution, so finding the mayfly larvae in the river is an indicator of a healthy water source. The kit includes dip nets, an underwater viewer, critter containers and an oxygenator to keep aquatic insects alive in order to safely return them to the river after studying.
Relax and Unwind
Just after the sunset, fireflies create a spectacular natural light show in trees that surround the large field along the trail from the parking lot to the campsites. Summer evenings also bring a chorus of frogs. Salamanders thrive in the shallow tributaries of the river, and there are many signs along trails about salamanders, though we didn't see any on our weekend stay.
The visitor center offers a variety of interactive exhibits and displays of maps, animal tracks, and forests around New River valley, local bird species, early culture, watersheds and river basins. Park rangers also lead interpretive programs, including nature hikes, tree identification programs and guided canoe trips.
Learn more about the park and park activities at ncparks.gov/new-river-state-park.
Michele Huggins is the editor of Charlotte Parent magazine.