Eliminate Tardy Slips: 5 Tips To Get Out the Door on Time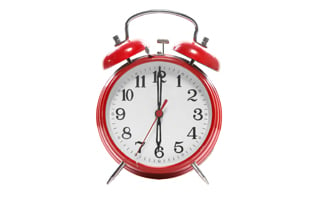 Getting your kids moving in the morning can be a challenge, but good habits and good fun can help to eliminate tardy slips and morning madness. Try these tips around the house to help them head out the door with ease.
1. Plan ahead.
Leave the early morning scramble to the eggs. Get things done the night before and have your kids help you lay out clothes, pack their lunches and organize book bags so all you have to do is enjoy breakfast and get them out the door.
2. Reward progress.
If your kids can't remember what to do each morning, create a checklist or chart: brush teeth, make up bed, kiss mommy. Then provide a reward such as a sticker or an after-school treat when they do them all without prompting.
3. Stay calm.
Even as the clock ticks, you must remain calm. Yelling or barking orders only slows down the process.
4. Make it fun.
Set a kitchen timer so that getting ready becomes a game. Race to see who can brush their teeth before you make your bed, or who is ready to go earliest.
5. Set a routine.
Get to bed five minutes earlier for a good night's rest, and get them up a few minutes earlier so you will be on time during the school and work week. CP