Easy-to-Make Spinach Squares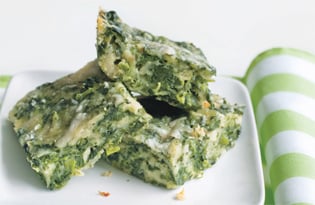 Spinach Squares Recipe
Serves 6 –8
These delicious squares are nutrient packed: spinach is a good source of protein, calcium, fiber, iron, niacin, zinc, and vitamins A, C, K, and B6. Nevertheless, kids love these treats! Two cheeses complement the spinach perfectly, so the issue of  "eating your vegetables" may never come up.
INGREDIENTS:
2 tbsp unsalted butter, melted
3 large eggs
1 cup (8 fl oz/250 ml) whole milk
1 cup (5 oz/155 g) all-purpose flour
1 tsp baking powder
1 tsp kosher salt
1 lb (500 g) Cheddar cheese, shredded
1 lb (500 g) chopped frozen spinach, thawed and drained
1?4 cup (1 oz/30 g) grated Parmesan cheese
DIRECTIONS:
Preheat the oven to 375 degrees. Line a 9-by-13-inch rimmed baking sheet or baking dish with parchment paper. Pour the melted butter into the prepared pan and spread to coat evenly.
In a large bowl, beat the eggs until well blended. Whisk in the milk, flour, baking powder, and salt. Add the Cheddar and spinach and stir until combined. Pour the spinach mixture into the prepared pan and spread in an even layer. Sprinkle the Parmesan evenly over the top.
Bake until the top is lightly browned and the juices are bubbling, 30–40 minutes. Transfer to a wire rack and let cool until just warm to the touch. Cut into 2-inch (5-cm) squares and serve.?
Recipe excerpted from "The Supper Club: Kid-Friendly Meals The Whole Family Will Love"? by chef, former caterer and mom Susie Cover.