Dollywood: An Ideal Destination for Family Fun
With 2.5 million visitors each year, Dollywood is Tennessee's No. 1 ticketed attraction.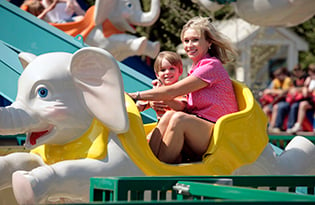 With 2.5 million visitors each year, Dollywood is Tennessee's No. 1 ticketed attraction. Spanning 150 acres in Pigeon Forge and the foothills of the Great Smoky Mountains, Dollywood has more than 40 rides and attractions – an ideal destination for family fun.
As a guest of the Sevierville Chamber of Commerce, I recently traveled to Tennessee for Dollywood's media day and had the opportunity to interview legendary entertainer Dolly Parton, who owns the park with Herschend Family Entertainment.
Something for everyone
With a variety of rides and height requirements, all ages will find excitement at Dollywood.
"We always try to cater to families," says Parton. "That's what Dollywood is all about."
Older kids will love Mystery Mine, a steel coaster where the 1,811-foot track travels through an abandoned coal mine. There's also a thrilling 95-degree, 85-foot vertical drop that plunges into darkness.
Adventure-seekers will also love Wild Eagle, which rises 21 stories into the sky and provides riders with the sensation of flight. Riders travel the coaster's massive 3,127-foot track as it dives, drops, twists and turns. The coaster reaches a top speed of 61 miles per hour and maneuvers four inversions including a giant loop, a "zero-G" roll and a giant flat spin.
Younger ones will enjoy the rides in the County Fair section of the park. Hop aboard the Dollywood Express, the 110-ton coal-fired steam engine for a five-mile journey around the park, or the traditional Village Carousel for nostalgic fun, and much more.
FireChaser Express

New to the park this season is the FireChaser Express, the nation's first dual-launch family coaster that travels both forward and backward. The coaster celebrates the volunteer-based fire departments of the 1940s when firefighting trains were common and protected the Great Smoky Mountains National Park. The FireChaser Express' passenger trains are themed to celebrate all firefighters who bravely work to ensure the safety of others.
With a 39-inch minimum height requirement, the coaster was designed so that even very young children can ride with their families. The FireChaser Express launches twice, blasting riders forward and backward on a winding 2,427-foot track. The coaster is projected from the loading station traveling from zero to 16 mph in just 1.1 second. Near the end of the ride, a backward launch from zero to 20 mph in two seconds sends FireChaser Express back to the station in the opposite direction.
"My new FireChaser Express has folks goin' in all different directions, and that's going to be a lot of fun, but it teaches an important lesson, too," says Parton. "FireChaser Express celebrates our heroes – firefighters – and it reminds the rest of us that we can all be heroes if we'll just step up and help others, whether it's in a small way or a big way."
Demonstrations and Entertainment

In addition to rides, Dollywood is highly themed with local history and preservation. Visitors will enjoy many demonstrations of turn-of-the-century crafts such as blacksmithing, candle making, woodcarving, glass blowing and more.
As expected, music plays a big part of the entertainment at Dollywood. Visitors will enjoy a variety of live entertainment including country, bluegrass, Southern gospel, classic rock 'n' roll, and Appalachian music.
If you are a Dolly Parton fan, don't miss Chasing Rainbows, an interactive museum with memorabilia from Dolly's life and career. You'll see movie costumes, awards, handwritten song lyrics and even the original Coat of Many Colors, the coat Parton sang about in her hit 1971 song.
DreamMore Resort
Scheduled to open summer of 2015, the 300-room DreamMore Resort will be next to Dollywood and Dollywood's Splash Country, the adjacent 35-acre water park.
"We really wanted to have a resort, so we can make Dollywood a complete vacation destination," says Parton. "We're going to try and keep it very Southern," said Parton. "We're going to play heavily on the front-porch theme because back in the country, I think people like to sit out on the porch where you can plan, where you can dream."
Dollywood
Admission: $46-$58 (one-day tickets)
Park hours: Dollywood opens March each year and will close in January. Park hours are 10 a.m.-7 p.m. with summer hours of 10 a.m.-10 p.m. beginning June 14.
dollywood.com
Myra Wright is the editor of our sister magazine, Piedmont Parent. She lives in King, NC with her husband and three kids.