Disney on Ice Performer Q&A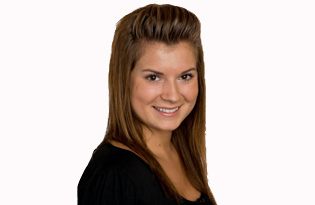 "Disney on Ice Dare to Dream" is a fairy-tale performance for little ones who love Disney's princess and prince tales. For Melissa Newton, who portrays the Fairy Godmother in "Disney on Ice Dare to Dream," it's a dream job. We caught up with Newton to learn more about her experience as an ice skater with the traveling show.

CP: What is your role in "Disney on Ice Dare to Dream?"
MN:I am lucky enough to play the role of the Fairy Godmother, and a guard from the Cinderella segment. I play a "wench" from the snuggly duckling and I boogie down as a courtier in the final scene.
CP: How old were you when you started ice skating?
MN: I started skating when I was 3 years old and haven't stopped, so, you can say I'm almost better at skating then walking.
CP: How old were you when you joined Disney on Ice?
MN: I joined Disney on Ice at the age of 18.
CP: Tell us a bit about the audition process.
MN: I had always known I wanted to be a performer for Disney on Ice but I had to wait until I was 17 to audition. I sent in a video of me skating and showing my skills, and then was asked to attend a live audition where I performed some specific skating moves. After that I was asked to join Monsters Inc., my first Disney show.
CP: How often do you practice, and what does a typical practice include?
MN: Because "Disney on Ice Presents Dare to Dream" is a new show we just got out of a six-week training session to learn the show from top to bottom. Once we started touring around the United States we typically have rehearsals once a week and after shows if needed. There is also off ice practice that we do to make sure the show is always in top form.
CP: What is a typical weekly schedule?
MN: A typical week for us would be opening on a Wednesday performing on Thursday with a rehearsal before the show Friday we may have two shows, Saturday we have three shows, and Sunday usually 2. We travel to the next city on either the Sunday night or Monday morning. Tuesday we get to relax and get ready to start all over in a new city with a new crowd!
CP: What type off ice training to you practice to prepare for shows?
MN: We take off-ice practice pretty serious here. We always get a good warm-up before stepping on the ice. As for our days off, we like to keep active by going to the gym or checking out a local yoga class.

CP: What tips can you offer young figure skaters who aspire to be in tours like Disney on Ice?
MN: If you are a young figure skating dreaming of becoming a Disney on Ice performer, really work hard at it and never give up! If you want something, hardwork and determination is going to get you there.
?