Davidson Student Wins Scholarship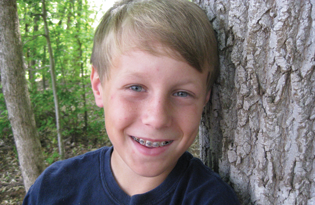 Kohl's Cares Scholarship Program recently awarded 11-year-old Cole Rosenberger, of Davidson, a $10,000 scholarship for his efforts to encourage fast food chains to adopt the use of post-consumer recycled fibers in paper products. He was one of 10 national winners chosen from more than 35,000 nominees for outstanding community service.
At the age of 9, Cole began a campaign to persuade McDonald's to change its packaging in an effort to save the habitats of endangered species and plant life in the coastal forests of North Carolina. His grassroots efforts included making handmade postcards with drawings of animals in their natural habitats.
With the help of 25 other students, he collected signatures at Mountain Island Elementary before mass mailing more than 1,000. One year later, the fast food chain responded postively by changing their bags to 100 percent recyclable fibers.
In the following year, he organized seven additional schools and collected more than 6,000 postcards. In 2011, Cole and his team hand-delivered these postcards to executives at KFC headquarters in Louisville, Kentucky.
He is now working on a kid environmental activist web page, and continues to work with fast food chains to encourage the use of more post-consumer recyclable paper products. In addition to recognizing Cole for outstanding efforts through volunteerism, Kohl's will also donate $1,000 to a nonprofit organization of his choice.