Dan Nicholas Park: A Little Bit Amusement, A Little Bit Park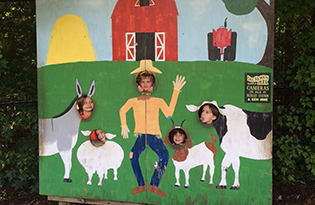 Dan Nicholas Park in Salisbury is a little bit amusement and a little bit park. The park is more than the standard trees, playground and picnic tables (though there is plenty of that too), animal, train and golf fans can find fun inside the park gates.
Kids can take a ride on a giraffe or zebra on Haden's Carousel, and then walk over to the Rowan Wildlife Adventures area to see live deer, foxes and skunks. Also nearby the carousel is the Hurley Train Station, the depot where you can catch one of three trains, and also do a bit of souvenir shopping. The train, driven by an engineer in typical striped engineer overalls, follows a winding path through the woods and goes through two tunnels where it stops for brief, local history lessons.
Wedged between the carousel and wildlife area is the Hurley Water Plaza, a great splash ground to play in with plenty of surrounding and dry bench seating for mom and dad. More water fun is found by the lake. Lake Murtis is a focal point of the park. Hop aboard a sparkly paddleboat or bring your tackle to fish. Stop by Lakeside Concession's store, on the path to the lake, to get a fishing license ($2.50 for out-of-county residents). While there, grab an ice-cream cone, bait to hook a bass, and some food to feed the ducks.
A wooden cutout painted with a barn scene make a good family photo opportunity before entering into the Stanback Barnyard area – you just have to choose who gets to the be the farmer and who gets to be the goat, donkey, sheep or cow. Inside the barnyard, see a donkey, goats, a peacock, turkey and more – just enough to excite little ones, but maybe not enough to keep big kids engaged.
Buy yourself a bucket of gems at the Miner Moose Gem Mine, and then wash the stones in one of four flumes. Stop by the gem mine shack to have your gems identified or even turned into a piece of jewelry.
Don't miss out on a game of mini-golf on one of the two 18-hole courses. The courses are in remarkably good shape and fun to play. A large playground, divided into three sections appropriate for different ages, is located beside the mini-golf courses.
Though there is no entrance fee, there are fees associated with the various attractions. Train and carousel rides are $1 each, free for children 12 months and younger. It's 50 cents to enter the Stanback Barnyard, and fees vary for a bucket of gems. A game of mini-golf is $4, but free for children under the age of 3. Paddleboats are $2 per person for 30 minutes, and free for children under age 3 with an adult.
It's easy to turn the daytrip into an overnighter by pitching a tent or renting a cabin at the 70-site campground. Find more information, including camping fees, at dannicholas.net.