Crockpot Strawberry Cobbler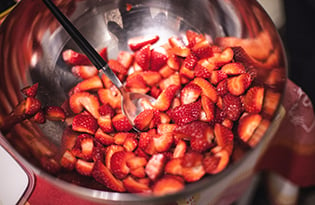 4 cups frozen strawberries
1/4 cup sugar
1 T flour
1 T lemon juice
Biscuit topping:
1 1/2 cups flour
1/4 cup sugar
4 tsp baking powder
1/2 tsp baking soda
1/4 tsp salt
1/3 cup cold butter, cubed
1/2 cup buttermilk
Grease bottom and side of crockpot. Add strawberries, sugar, flour and lemon juice. Stir to combine.
Biscuit Topping: In a large bowl, mix flour, sugar, baking powder, baking soda and salt. Cut in butter with a pastry cutter until crumbly. Add buttermilk and stir with fork to make slightly sticky dough. With floured hands, gather into a ball. On a lightly floured surface knead dough about 10 times until smooth. Pat into 8″ circle to fit the shape of the crockpot. Cut into 8 wedges and arrange over fruit in crockpot.
Cover and cook on high until biscuit topping is no longer doughy underneath, about 3 hours. Remove insert and let cool, uncovered for about an hour before serving.