Creating Masterpieces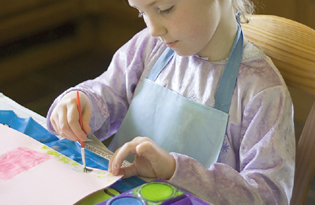 The next time your child comes home from art class with the latest masterpiece to hang on the refrigerator door, you might want to take a moment to think about what bloomed inside as they created their latest work of art.
When children engage in art, the goal shouldn't be to become the next Picasso. Rather, it should be a way to help them feel empowered by their own ideas, and teach them to take brave steps. While creating, children are learning valuable skills such as problem-solving and self-awareness.
Zachary Clark, outreach art instructor at Community School of the Arts in Charlotte, continually sees the positive ways art can help a child develop.
"When they take on a project and really run with it," says Clark "they are asking themselves critical questions, figuring out issues and learning how to execute sophisticated ideas."
Parents can help develop those same skills at home by sitting with their child while they are doing artwork and ask questions like: "What are we making? "Why are you drawing it this way?" "What will happen if we do this?" Asking questions can lead to having more intelligent, challenging and sophisticated conversations.
Just as art can help stimulate young minds, introducing children to music has its lasting rewards, too.
Laurel Talley, Suzuki coordinator and lead violin instructor at CSA, says children learning to play an instrument not tap into their creative side, but are learning discipline and analytical skills, and how to work in a group.
"Playing music teaches children to be goal-oriented and expressive," says Talley.
It might be months before a 6-year-old will learn to play "Twinkle, Twinkle, Little Star," but Talley sees young children processing the concepts, memorizing the notes and working towards an ultimate goal of playing for an audience.
Learning an instrument takes focus and patience. Talley says students understand that if they stick with something, it will sound better and come full-circle for them in the long run.
"I do think they reflect and see how far they've come," says Talley. "It makes a big impact on their self-esteem and self confidence."
Parents often tell her they've seen that same discipline and focus transfer to other areas for the child, such as tackling a new academic area in school, training for a sport or even getting good at spelling.
UNC Charlotte student Amber Carpenter began studying the harp when she was 7. She believes it's helped her develop many life skills, including structuring her time, and structuring her learning.
"I'm a good student now," said Carpenter, 21. "I feel a lot of that has come from the fact that I've had to push myself to work hard for something, and be diligently focused."
David McGuirt of Charlotte has three children – Avery, 17; Casey, 15; and Emmy, 14 – all of whom have studied violin since the age of 5. McGuirt says when his children started lessons, he noticed that they became less shy when it came to presenting a book report or speaking in front of people.
"All three are really academic high-flyers," said McGuirt, a guitar player himself. He feels strongly that studying music is the reason. "It's helped them in a lot of fronts other than just playing a musical instrument."
Denise Slaughter is a freelance writer and volunteers with Community School of the Arts, one of the largest providers of music and art instruction in the Southeast.