Crafts for Kids: DIY Fall Leaf Initials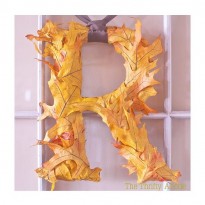 For fall, make a personalized and seasonal accessory for your child's room. This is a great craft to do on those days when it's just a bit too cold to play outside. With your help, your child will have a ton of fun getting to use the spray glue and getting to show off their fancy fall letter!
Supplies
• Wooden letter found at local craft store
• Elmers mounting spray
• Adhesive spray (optional)
• Fake fall leaves
• Ribbon
Instructions
1. Spray the letter with the Elmers mounting spray
2. Place the leaves onto the letter
3. TIP: Set a book or anything heavy onto the leaves so they aren't accidentally moved. Let sit for about 20 minutes
4. Spray with adhesive spray onto the leaves to keep them more secure
5. Let dry
6. Place the ribbon on letter in order to hang on the door
VIDEO: How to make a personalized initial for your child's room.