Cooking with Local Greens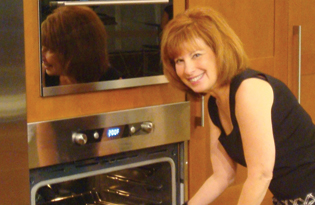 Spinach, chard, lettuce, arugula, dandelion, chicories, collards and kale all add a bright touch of color to local farmers market stands and our family tables this time of year, says Charlotte culinary expert Heidi Billotto.
The standard "Southern" way to cook greens is to chop them up and throw them in a pot along with a ham hock added for fat and flavor; cover with water, bring to a boil and cook over low, slow heat for an hour or two, says Billotto. "For me the result is an overcooked often salty 'mush' that doesn't do much to honor to the texture or the taste of the vegetable itself."
As an alternative this year, try one of the recipes below that bring the true essence of the greens themselves to the table.
---
Greek-style Greens Phyllo Pie
Recipe by Charlotte Culinary Expert Heidi Billotto
INGREDIENTS
1/4 cup extra virgin olive oil
1/2 cup finely chopped onion
4 cups mixed baby greens such as tender collards, Russian kale, chard, baby arugula or young dandelion leaves, washed and chopped or shredded
1/4 cup fresh flat leaf Italian parsley, finely chopped
1/4 cup fresh mint, finely chopped
3 tablespoons dried oregano leaves
Sea salt and pepper to taste
1 cup small curd cottage cheese
1 cup crumbled feta cheese
2 eggs, lightly beaten
Nutmeg
5 tablespoons melted butter
12 sheets phyllo dough, thawed
DIRECTIONS
Sauté onion in olive oil until tender. Add the greens and cook, stirring, until wilted, about 3-5 minutes. Remove from heat. Place the mixture in a colander and press gently to drain well. Cool slightly. Transfer to a large bowl and add parsley, mint, oregano, salt and pepper. Mix well. Add the cottage cheese, feta cheese, eggs and season with a grind or two of nutmeg; stir to combine. Reserve. ?Lightly brush an 8-by-8-inch baking pan with melted butter. Overlap six phyllo sheets in the pan, brushing every other sheet with the butter as you layer. Cover the bottom and sides of the pan, and let the excess dough hang over the edge.
Pour the cooked greens filling over the dough and spread it out evenly. Fold the overhanging phyllo over the top of the greens mixture. Brush with the butter. Top with the remaining six phyllo sheets, again brushing every other sheet with butter. Fold up the overhanging phyllo tucking in the edges to seal.
Bake in preheated 350-degree oven for about 45 minutes or until golden brown. Cool for one hour before cutting into squares to serve.
---
Baked Salmon with Braised Fennel and Local Greens
By Charlotte Culinary Expert Heidi Billotto
For the fennel and greens:
2-3 bulbs fresh fennel, shaved
1 sprig fresh rosemary
2 cup vegetable or mushroom broth
1-2 bunches fresh local kale or collards, cut into a chiffonade (or thin shreds)
4 cups fresh local spinach leaves, cut in a chiffonade
2-3 Tbsp. extra virgin olive oil (the full flavor of a Spanish olive oil is good here)
½ cup orange juice
For the Salmon:
1 or 2 fillets of salmon
Sea Salt and McCormick's Hot Sot Black Pepper Blend
Parchment paper
DIRECTIONS
To braise the fennel and greens, warm the olive oil in a shallow saute pan. Add the sprig of rosemary along with the shaved fennel and cook until slightly browned and caramelized.
Cover the fennel with veggie or mushroom broth, bring to a boil, reduce heat and cover for 5-6 minutes. Remove lid, add kale, collards and spinach to pan, tossing until the greens wilt. Add orange juice and more broth, if needed. Remove the rosemary sprig. Add salt and pepper to taste. Cook 4-5 minutes more to heat through.
While greens are cooking, line a baking sheet with parchment paper. Season salmon on both sides. Place on parchment and bake in a preheated 400 degree oven for 10 minutes per inch of thickness.
To serve, plate strained fennel and greens. Top with a pat if butter if you wish. Top with a portion of the baked salmon and a sprinkling of fresh minced Italian flat leaf parsley.
---
For nearly 20 years, Heidi Billotto has been writing for local and regional publications about food, wine, chefs and restaurants in Charlotte. Between columns, Heidi makes monthly culinary appearances on several Charlotte-based television and radio stations and is well known in the Queen City for her regular schedule of fun and informative cooking classes.
For more information about classes, or to buy cooking-class gift certificates as a holiday gift for your favorite foodie, contact Billotto directly at hlnc@carolina.rr.com.