Choosing Early Care and Education Programs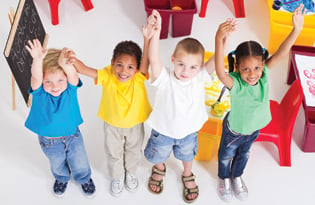 When considering a big purchase, smart shoppers get as much information as possible before making a final decision – and preschool should be no exception. After all, the preschool program you choose for your child will provide experiences that shape his or her developing brain and lay the foundation for success in school and in life.
With a wide range of early care and education options available, it is critical to become an educated consumer as you make one of the first and most important decisions on behalf of your child.
Do Your Homework
Preschool is not a one-size-fits-all product. Start researching options early to increase your chances of finding the right fit for your child and family. Once you have a list of early care and education programs that interest you, narrow the field and confirm the information you have gathered from other sources by calling and asking questions, such as:
• Can you describe a typical day?
• How many children are in your program overall?
• How many children are in my child's age group or the class my child will be attending?
• What is the staff-to-child ratio in the class my child will be attending?
• Is there a waiting list, and if so, is there a fee to be on it?
The next and most important step in your search is to visit several programs. Tour the facilities on your list of options, and observe the children and staff. Also get references from other parents. Ask if their children enjoy a specific program, what they like most and least about a program, and whether they would use the program again.
In general, look for the following features in a quality early care and education program.
Star rating. If licensed, does the program have a higher (4 or 5) star rating? If the program has a low star rating, ask how it plans to improve and by when.
Staff-child ratio. With a small number of children per staff member, each child can receive individual attention and care.
Group size. Small groups promote a nurturing, secure setting.
Developmentally appropriate curriculum. Good early care and education programs follow a written plan to encourage learning, and engage children in activities that suit their ages and developmental stages.
Positive interactions. Children communicate with and learn from the staff and one another.
Educated and dedicated staff. The staff is well-trained in child development and there is low staff turnover.
Consistent supervision. Each staff member is responsible for the same children every day.
Open communication. Parents are welcome to visit their children at any time. Families are informed about children's activities and progress, and are encouraged to be involved in the program.
Health and safety. The program has clean indoor and outdoor areas with room for children to play and interact safely. The staff pays close attention to children's health and nutritional needs.
Above all, think about what is best for your child, and trust your instincts. You are the expert on your child, and equipped with the right information, you will make the best decision.
Carolyn Hazeldine is senior vice president for institutional advancement at Child Care Resources Inc. CCRI provides information on licensed and legally-exempt early care and education programs in Mecklenburg, Cabarrus, Union, Rowan and Stanly counties. Call 704-348-2181 to speak with a child care search parent counselor, or visit www.childcareresourcesinc.org.
Visit and Take Notes
Download and print CCRI's Quality Checklist, a handy form to take notes and track indicators of quality at each program you visit, to organize your thoughts and help make the search process more objective and less overwhelming.