Choices … Smart Tablets for Kids ?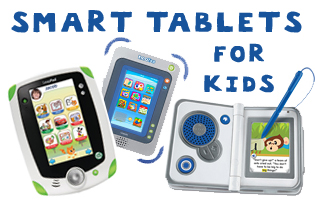 LeapPad by Leap Frog
Smart features: Adjusts the learning level as the child progresses and lets parents customize math skills and spelling lists in games. Ages 4-9. $100. Leapfrog.com.
Innotab by VTech
Smart features: An accelerometer that enables a screen response when children tilt or move the tablet. Preloaded e-reader comes with one book, two games, an art studio and digital coloring book. Ages 4-9. $80. Vtechkids.com.
iXL by Fisher-Price
Smart features: Creates five customized profiles with favorite animals, colors and more. Opens and closes like a book, making it more durable, and has an extra-long battery life. Ages: 3-7. $80. Fisher-price.com.