Chicken Paillards with Leeks and Apples with Butternut Squash Purée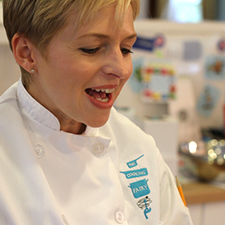 When the weather turns cooler this delicious and nutritious dish will hit the spot.
Chicken Paillards with Leeks and Apples with Butternut Squash Purée (serves 4)
8 chicken cutlets or 4 chicken breasts, halved widthways
1/4 cup flour
1 tbsp butter
1 tbsp olive oil
1 large leek
1 tbsp fresh chopped thyme
2 apples, (such as Fuji/Gala/Honeycrisp) sliced
1/4 cup sherry/marsala wine
1 cup chicken broth
salt and pepper
Cooking Directions: 
Season the chicken breasts with salt and pepper and coat them in the flour. Add the butter and olive oil to a large deep sided sauté pan over medium-high heat. When butter begins to bubble add the chicken cutlets (in two batches if necessary, depending on the size of your pan) and brown on both sides. Remove chicken and place on one side, lower heat to medium and add leeks, apples and fresh thyme, salt and pepper. Stir until leeks have softened (about 5 mins). Add sherry/marsala to pan and cook for 1 minute until slightly reduced. Return chicken breasts to pan, add chicken broth and simmer for 10-15 minutes until sauce has thickened and chicken is cooked through. Serve over Butternut Squash Purée with plenty of sauce.
The Cooking Fairy cooks for families from Darien, CT to Purchase, NY and in between. Serving a range of clientele from busy families with toddlers to single parents, from professionals seeking weight loss plans to post surgery patients, The Cooking Fairy offers weekly chef services to families who want to have wholesome, sit-down family dinners without spending the time shopping, preparing, cooking and cleaning. thefairycook.com.