Charlotte Mom – Beverly Warkulwiz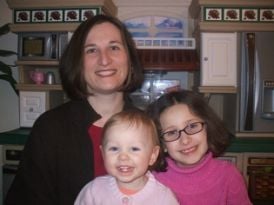 Take a peek inside the life of local mom Beverly Warkulwiz and get a glimpse of everyday parenting — from the madness to the mess-ups!
Vital Stats: Beverly Warkulwiz, 34
MomsLikeMe.com discussion leader, freelance writer/editor, Spanish teacher at Friends School of Charlotte, early childhood curriculum consultant and trainer and avid supporter of local nonprofit Birthday Blessings.
Family Tree
Married for nearly nine years, and mom to two daughters, 7½ and 1½, and a cat. Moved to Charlotte three years ago from Pennsylvania.
Get Real
I'm a "piler" and a bit of a packrat, but I have one of those organized-clutter systems going on. It's when I file my piles that I can't find what I'm looking for.
"Don't You Dare"
At-ti-tude! My husband and I can't stand attitude. Thankfully, only our youngest daughter pushes that button with any regularity.
Parenting Rule #1
If you're capable — you do it!
Fave Phrase
"In a minute…" Of course, this really means, "If I remember, once I'm done with what I'm doing."
Top Tip
Do what works for your family — forget what others say or think. If it works for you, that's all that matters. (However, if it's not working, fix it.)