Charlotte Country Day Celebrates 2020 Grads with Creative Virtual Tribute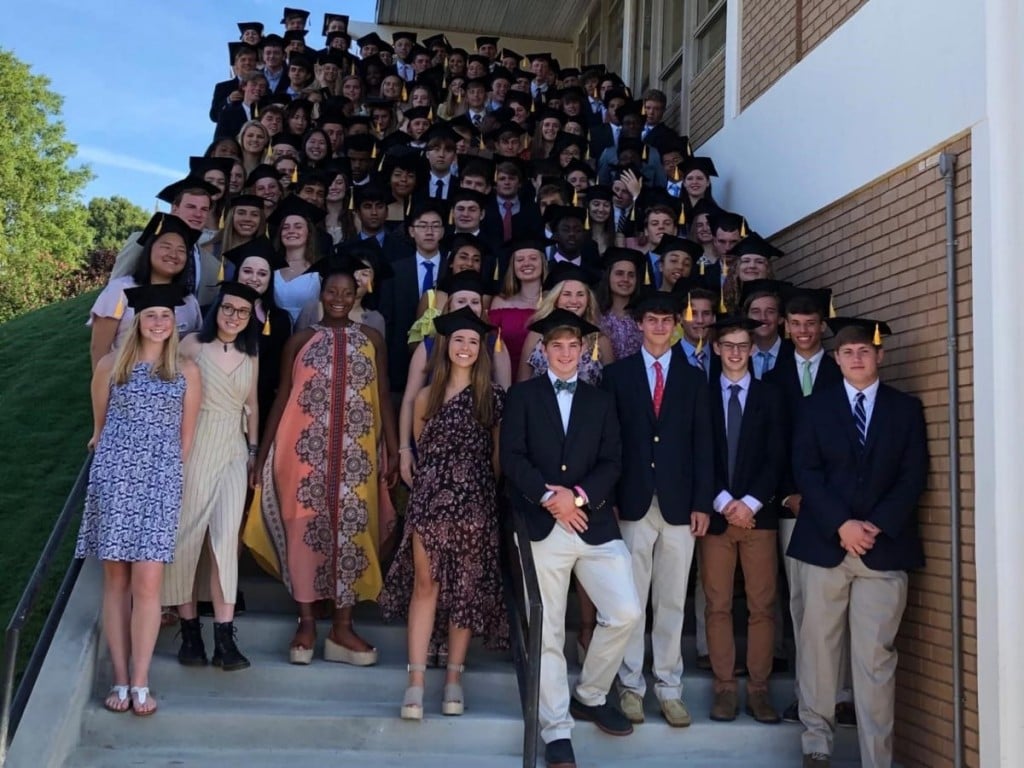 Local independent day school sends off graduating seniors with a thoughtful online tribute page where parents, teachers, coaches, and others can leave well wishes for individual students and the class as a whole.
Coronavirus times call for creative measures.
Graduating high school seniors across Charlotte, the state, and the country never imagined finishing their four years without a physical graduation ceremony, but that doesn't mean their diplomas are any less meaningful.
While some area schools (and parents) have placed yard signs of congratulations around their communities, Charlotte Country Day School (1440 Carmel Road) took it a step further by also honoring their seniors online—in true Gen Z fashion.
The JK-12 independent school has created a thoughtful, yearbook-esque web page where parents, teachers, friends, coaches, and other supporters can leave the graduates well wishes.
Whether you want to leave a message for a particular teen or you want to post words of encouragement for the entire Charlotte Country Day Class of 2020, you can do so here.
Simply click a student's senior photo to leave them an individual comment, or write your wisdom and well-wishes for the whole class on the right panel.
"Class of 2020: We have known some of you since you were 4 years old and others we just met over the last few years, but we are so proud of all of you!" the Country Day Admissions Team writes.
"What a year to graduate! You will never forget this year and your place in history," Upper School science teacher Chris Gawle writes. "The world is in an unprecedented place, and, as such, it gives you opportunities to help others and add to your already amazing legacy. Help heal America and the world through your next steps. The world needs leaders, do-ers, and problem solvers, and your class is uniquely equipped to provide that and more. Be well, stay strong, and know your gifts and energy are needed now more than ever."
Quick look at the Charlotte Country Day Class of 2020:
One-hundred-fifteen students will attend 62 different colleges and universities in 25 different states, Washington, D.C., and Canada.
Fifty percent of the class will attend private universities; 50 percent will attend public institutions.
To date, the class has received $11.5 million in scholarship offers based on academic, merit, athletic abilities, or special talents.
Seventeen seniors will continue their sports careers in programs at Davidson College (men's track and field), Wake Forest University (women's track and field), Purdue University (football), Yale University (field hockey), and more.
Two students received the Richard Vinroot International Achievement Award for the continued internationalization of Charlotte and our region.
The Student Senate and Upper School faculty also created two senior send-off videos because there simply wasn't enough room in the first one to include all the heartfelt messages.
The feelings are mutual, too—senior Cady Cole created a "thank you" video from the Class of 2020 to the rest of the Country Day community.
Click here to view the Charlotte Country Day Class of 2020 tribute page and leave words of encouragement for students you know.
---
Charlotte Country Day School is a strong institution with a long history of forward-thinking, offering students and their families an unsurpassed opportunity to prepare for the future—an opportunity grounded in the strength of tradition and shaped by generations of visionary leaders. For more than 75 years, Country Day has continued to build on its long legacy of firsts among the Charlotte region's independent schools, introducing groundbreaking programs and progressive ideas. Learn more at CharlotteCountryDay.org.