Celebrate ImagiCon 2019 with Charlotte Mecklenburg Library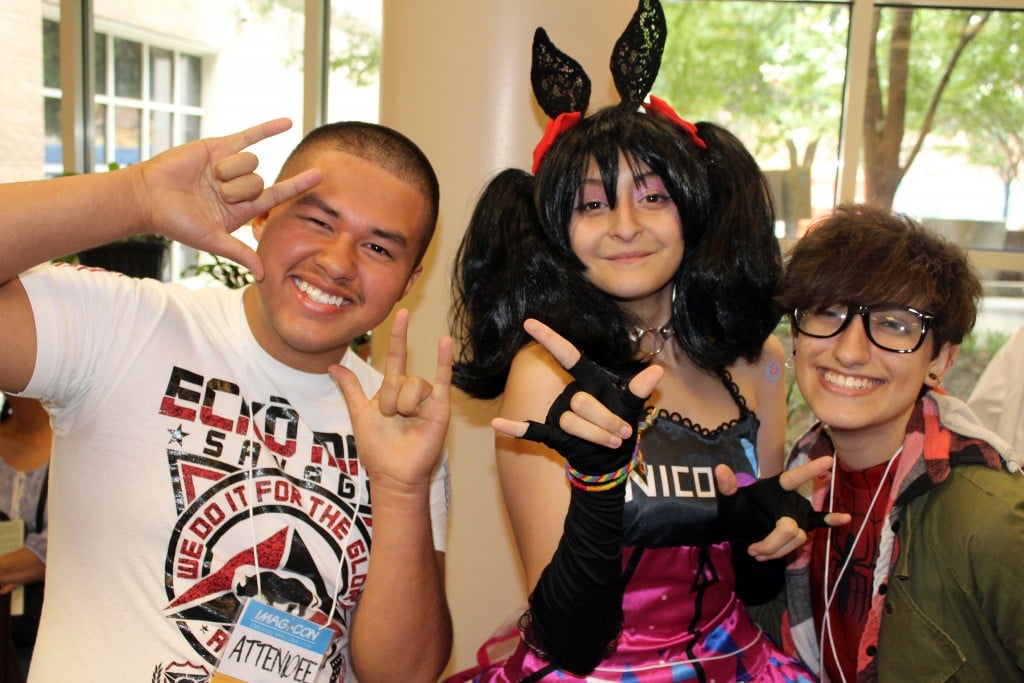 Join the Charlotte Mecklenburg Library on Saturday, July 20, 2019 from 10:00 a.m. to 4:00 p.m. at ImaginOn for the 4th annual ImagiCon mini con. This free festival-style program celebrates the culture surrounding comic books, graphic novels, manga, anime, fandoms and gaming. The program is for ages 0-18 and their families, and its aim is to provide a safe space for those interested to explore the genre, to inspire their creativity, and to educate our young customers about the local industry careers and artistry opportunities associated with fandoms.
Listed below are four books that were chosen to get your whole family excited and ready to celebrate ImagiCon 2019. Locations listed below are housed inside ImaginOn.
Superhero Storytime | Spangler | 10:30 – 11:00
Super Rawr! By Todd Doodler
Superhero Storytime will kick off our programming for young children at 10:30 a.m. in Spangler Library. Preschoolers and their families are invited to enjoy superhero stories, songs and movement activities that support early literacy skill development and help foster a love of superheroes. The book Super Rawr! by Todd Doodler will get your little one in the mood for superhero fun. Be sure to stick around after storytime to allow your child the opportunity to design their own mask and cape or get their face painted. This program is recommended for ages 0-7.
Minecraft Escape Room | The Block | 10:00 – 2:00
Redstone Junior High (Zombies Ate My Homework) by Cara Stevens
There will be plenty events throughout the day for preteens, including a LEGO panel presented by the NC LEGO Users Group at 12:00 p.m. in The Round and Harry Potter wand making in Diagon Alley. But one of the most exciting parts of the day for this age group will be the Minecraft Escape Room happening in The Block at 10:00 a.m. – 2:00 p.m. Fans of all things Minecraft will love the Redstone Junior High graphic novel series. This program is recommended for ages 8-11.
LGBT in Media and Comics | Board Room | 11:00
Laura Dean Keeps Breaking Up with Me by Mariko Tamaki
Diversity in manga and comic books can be lacking, but we all know that fans come in all shapes, sizes, and colors of the rainbow! This panel offers a safe space to discuss LGBTQ+ representation and the path forward to a brighter, more inclusive future. Laura Dean Keeps Breaking Up with Me by Mariko Tamaki is a sweet and spirited story of young love. This panel will take place at 11:00 a.m. in the Board Room and is recommended for ages 12-18.
Parent's Guide to Anime | The Round | 1:00
My Hero Academia (School Briefs) by Anri Yoshi
Parents, are you puzzled and alarmed by the shows your children watch? Join David Rothman, author of Parent's Guide to Anime, in The Round at 1:00 p.m. for this informative panel to help you understand anime and decide what's appropriate for your family. My Hero Academia is both a manga and anime series. Meet the characters in the newest publication in the manga series, titled My Hero Academia (School Briefs). This panel is recommended for parents of children ages 8-18.
Charlotte Mecklenburg Library is where many young people are first introduced to comic books through the graphic novel and manga collections housed at all twenty branches. ImagiCon aims to recognize and celebrate this interest in comics and grow the audience for the genre. For more information or to view the full schedule of events, please visit our online calendar.
Lonna Vines is the Children's Librarian at Hickory Grove Public Library. She hosts a monthly Comic Book Club for preteens and is a member of the Charlotte Mecklenburg Library ImagiCon planning team.