Celebrate Black History Month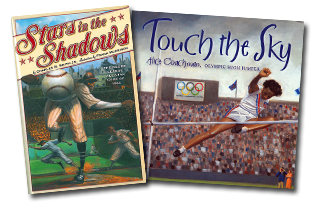 Commemorate Black History Month with your children by reading books that honor historic African American athletes.
Touch the Sky by Ann Malaspina (Albert Whitman & Company, $16.99) tells the story of Georgian Alice Coachman, who wanted so badly to become an Olympic high jump athlete, she made her own crossbar with sticks and rags to practice with, then began participating in track meets. When Coach Cleve Abbott asked her to join the Tuskegee Institute's famous Golden Tigerettes, she took one step — or jump — closer to achieving her Olympic dreams. Hardcover. Ages 6-9.
Stars in the Shadows by Charles R. Smith Jr. ($14.99, Simon and Schuster) celebrates the athletes that made up the Negro League All-Star Game of 1934. Played in Chicago, the game featured greats like Josh Gibson, Cool Papa Bell, Satchel Paige and Turkey Stearnes. Read about how these athletes made this one of the most famous all-star games in American history. Hardcover. Ages 8-12.