Casts, Pacifiers, and Why Eating Healthy Has Become Cool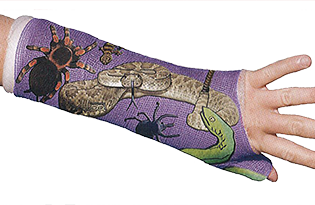 Casttoo
If you must have a cast, Casttoos make it a lot more exciting. Choose from tribal designs, creepy crawlers, seascape, flame and dragonfly designs to decorate your cast. The decals are easily applied by simply sticking to the cast and then using a hairdryer on high setting to heat the decal and cast area. casttoo.com.
Paci Protocol
Pacifiers can be a soothing tool for babies and parents, but they also can be germ traps. A recent study shows that pacifiers can grow a slimy biofilm that may alter the normal bacteria in a baby or toddler's mouth, and can lead to intestinal troubles or ear infections. Researchers recommend soaking pacifiers in a denture-cleaning agent each day and tossing used ones every two weeks to reduce risks. Some doctors debate the results and don't think it's a cause for worry.
Eating Healthy Has Become Cool
The vast majority – 80 percent – of children polled in a KidSay study now thinks it's "cool" to eat healthy. Most of kids' favorite foods, however, are "less healthy," with fruit being the exception. The ratio of healthy to unhealthy favorite foods tended to be 2:3 or lower.
My Chart
Next time you visit a doctor in the Novant Healthcare system, anticipate instructions on how to keep up with your and your child's medical records with My Chart. Via the MyChart system, you can log on to request prescription renewals, see immunization records and lab results, email pictures to physicians, request appointments, and more. Also available via iPhone and Android apps. mynovant.org.