Carowinds Launches Copperhead Strike
The double-launch coaster anchors the new themed area at the amusement park.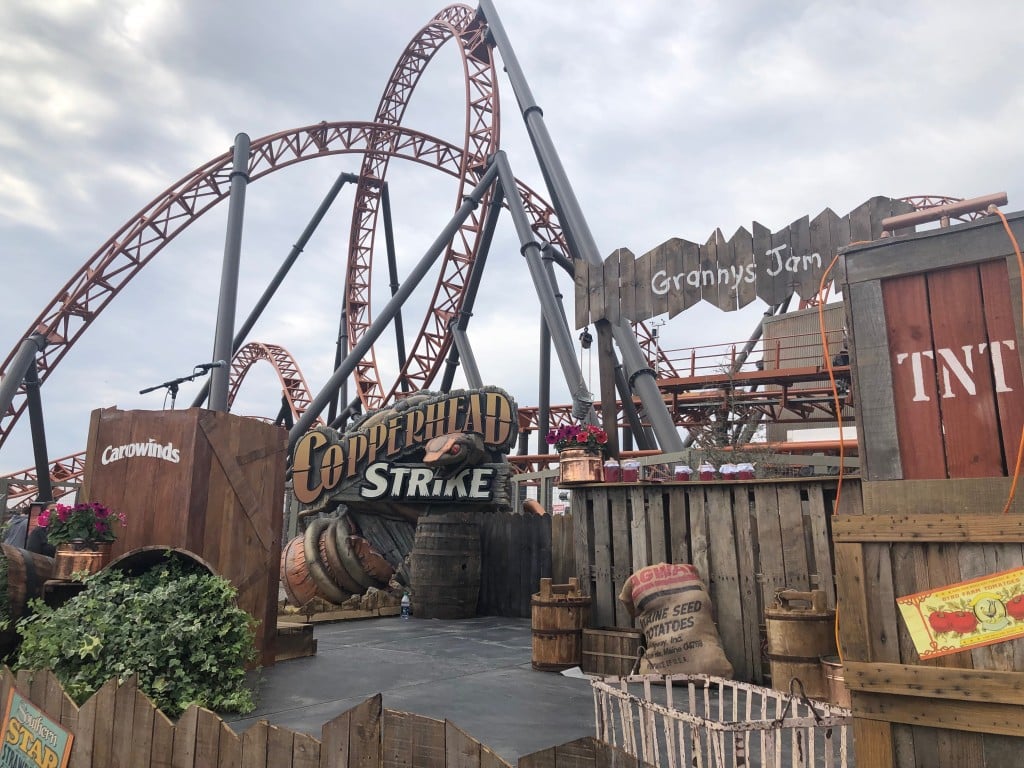 Carowinds rolled out the red carpet for the unveiling of Copperhead Strike, the newest addition in a long lineup of great roller coasters at the theme park. The double-launch coaster rockets from 0 to 42 miles per hour in 2.5 seconds through a tricky corkscrew, and then from 35 to 50 miles per hour in the second launch that slings riders upside down with a second of hang time in an immediate inversion. In total, the coaster has five inversions with total ride time of two minute and 34 seconds. The ride is smooth with a perfect combination of speed, airtime, loops, twists, turns and stomach-dropping hills.
Copperhead Strike is designed to simulate a harrowing chase of getaway cars racing through rolling farmland of the Blue Ridge Mountains. It anchors Blue Ridge Junction, a new themed area that pays homage to the laid-back, yet fierce spirit that makes up the Blue Ridge Mountains, aka Copperhead Country. The area also features the new Blue Ridge Country Kitchen restaurant and the Mountain Gliders, a returning fan favorite, family ride.
Copperhead Strike is just one element of a year of major development at the park. SpringHill Suites by Marriott at Carowinds​, a 130-room hotel currently under construction, is expected to open in late 2019. A new dorm is also underway that will house students from across the region and around the world, allowing Carowinds to develop a rich internship program for travel and tourism students.
Carowinds opens for the season March 23, 10 a.m.-10 p.m. For more information on pricing, season passes and the full 2019 schedule, visit carowinds.com.