Camping With Kids
Plus, tips for making first-time camping excursions ones you want to remember.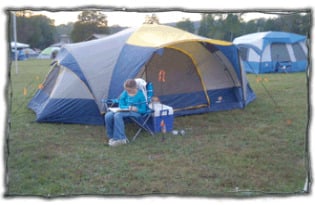 When I was 7, camping included my dad loading up the van with a grill, a Doberman, food and a change of clothes, and heading to one of the many public beaches in Northern California, or up into the foothills of the Sierra Nevada.
When I was 10, those trips morphed into backpacking trips, daughter and dog still in tow, a heavy tent and a cookstove strapped to my dad's back.
In junior high, I joined a Girl Scout troop that backpacked regularly. I learned to carry a tarp and some rope, instead of a tent, and how to start a fire with wet kindling (and dry matches). I became the go-to girl for gourmet food over an open flame, perfecting the art of baking a cake in an orange peel and making chocolate éclairs over an open fire.
Although I am no Grizzly Adams, I do know a little something about camping. Now, close to 30 years later, I also know a little something about camping with kids. It isn't for the faint of heart — it's dirty. And there's the occasional whining, but it also can be the most fun vacation you've had in years.
Back in the day, there were two kinds of campgrounds: tent and RV. These days it's hard to find separate campgrounds. Many have limited tent sites, but if you're willing to pay the RV rate, they'll let you pop a tent on a full hook-up site. Just make sure you ask when you make your reservations. Also, check in advance if you're going to take your pet. Some sites allow them, others don't. Some campgrounds don't allow all breeds.
If you're camping for the first time, here are a few tips to keep everyone happy. Unfortunately, we learned these the hard way.
1. Do an At-Home Trial Run
If you haven't camped with the kids before, try it for a night in your backyard. Not only will you see how much your kids can handle, you'll also be footsteps away from whatever equipment you forgot on your first trip out, and it's no big deal if you can't figure out how to set up the tent.
2. Pick a Convenient Location
"Make sure you camp near a Walmart, if this is your first time camping," says Eric Hebert of Harrisburg. He and his wife, Kera, have been taking Emily, 8, and Jason, 5, camping for years. "They have a reasonable camping section and everything else you might forget."
You also might want to camp near a hotel, just in case your tent doesn't hold up during a torrential downpour, and you find yourself longing for a warm, dry bed.
3. Talk About Expectations
Early on in the planning, make sure everyone is on the same page. My husband lived under the misconception I liked to cook on vacation. To me, cooking on a substandard stove with a leaky pot and one skillet is torture. And while I'm happy to show kids how to make éclairs or help them find sticks for roasting marshmallows — and I'll make a killer stew when coerced— I am not cooking three meals a day while I'm on vacation.
5. Plan for Efficiency and Fun
Kim and Chris Breivogel of Fuquay-Varina believe in the benefits of large tarps when they camp with Kendall, 11, and Ivy, 10. "Get a big tarp and some bungee cords," says Chris Breivogel. "It's a lot cheaper than the awnings you can get. We hang them over the picnic table, making a web with rope and bungee cords. That way we have a place to sit even when it's raining. It always rains when we camp, so we have three of these."
My own daughter, Kathleen, 11, has been camping so often she has her own advice for first-time campers. "You also need to bring some games like Yatzee and Uno," she says. "They're fun, but they don't have big boards and a lot of pieces to keep track of."
But be careful not to pack too much. "The less you bring, the happier you'll be," says Kathleen's father, Erik Justen of Statesville. "If you have to set it up, look after it, worry about it and take it apart, it will severely limit your fun."
---
6 Kid-Friendly Camping Destinations
So, where are the best unofficial places to camp in North Carolina? There are plenty of scenic spots across the state, depending on whether your family likes the beach or the mountains, or somewhere close to home. Be sure to take into consideration how primitive or loaded with amenities you'd like the campground — my only requirements are running water and bathroom facilities.
Here are recommendations from friends, family and the staff of Great Outdoor Provision Co. in Winston-Salem.
---
Cape Hatteras KOA
---
Route 12, 25099 N.C. 12
Rodanthe, NC 27968
252-987-2307
capehatteras@koa.net
Yes, it's a nationwide chain, but that means you can be sure you're going to a clean campground, which is great when you have kids. It's also my personal favorite. The Cape Hatteras KOA is on the ocean side of Hatteras Island, and it has water/electric, full hook-up sites and cabins. And you're just a few dunes away from the water.
The amenities are family-friendly and include mini-golf, bike rentals, two pools, an arcade, playground, fishing, outdoor cinema and a dog play area.
There also are daily activities during the summer. Bingo games, arts and crafts, volleyball, basketball, and ultimate Frisbee tournaments, to name just a few. The programming and parades are fantastic, because just about the time someone's getting bored, there's a new planned activity to join. The game room and TV lounge are air-conditioned, which is refreshing, since the one downside to this location is a lack of shade. The poolside café offers a break from cooking.
---
Ocean Waves Campground
25313 N.C. 12
Waves, NC 27982
252-987-2556
www.oceanwavescampground.com
If you can't stand the idea of going to a chain campground, head over to Ocean Waves, just down the road from the KOA, where there are tent, water/electric and full hook-up sites. This campground is smaller, but it also is right on the ocean. It has a pool, playground and a game room. The four tent sites are closest to the water, but not as shady as some of the RV sites.
---
Raccoon Holler
493 Raccoon Holler Road
Jefferson, NC 28640
www.raccoonholler.com
336-982-2706
This campground is just off of the Blue Ridge Parkway between mile markers 257 and 258, just outside Glendale Springs. It has primitive tent sites, water/electric sites and full hook-up sites. The New River, perfect for fishing, canoeing and swimming, is just three miles away. There are 80 acres for hiking and a 5-acre stocked lake. The campground also has a playground, a playing field, horseshoe pits and a game room.
---
Dan Nicholas Park
800 Bringle Ferry Road Salisbury, NC 28146 866-767-2757 www.dannicholas.net
For local camping, Hebert suggests Dan Nicholas Park in Salisbury. "It's a great campground with lots to do, and it's perfect for kids," says the Harrisburg dad. The park has six cabins to rent and 70 camping sites. Tents and RVs are welcome. Most of the sites have power (though none have sewer), and shower houses and restrooms are nearby. While there, kids can ride the carousel, play in the water plaza, pet animals in the petting barn, ride a train, play mini-golf, hunt for gems and ride in a paddle boat (additional fees apply).
---
Falls Lake State Recreation Area
13304 Creedmore Road Wake Forest, NC 27587 919-676-1027 www.ncparks.gov/Visit/parks/fala/main.php
"It's (a lot like) the mountains, with lots of hardwood trees," said Chris Breivogel. "It's like you're out in the forest, way out in nature, but you're really just 30 minutes outside of Raleigh."
Falls Lake has several camping areas, with sites ranging from primitive to electric and water for RVs, and group camping sites that will accommodate up to 35 people. Swimming, boating, fishing, biking and hiking trails are a few activities.
---
Hanging Rock State Park
1790 Hanging Rock Park Road
Danbury, NC 27016
336-593-8480
www.ncparks.gov/Visit/parks/haro/main.php
No matter whom I talked to, everyone suggested Hanging Rock State Park as a great place to camp. The folks at Great Outdoor Provision Co. like it because of the 18 miles of hiking trails, with varying difficulty levels and distances. There also are waterfalls, canoe and row-boat rentals, fishing, a beach area for swimming along Hanging Rock Lake, a snack bar and more.
All sites are non-electric; water and bathroom facilities are nearby. Each site comes with a grill and a picnic table.