Butternut Squash Soup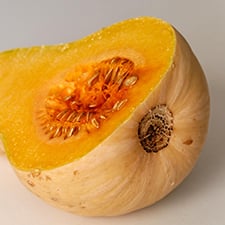 There's nothing as cozy and satisfying as a warm soup cooking on a cold winter night! Put a local spin on your stove with these delicious recipes using North Carolina local vegetables.
5 cups butternut squash (1 large), blanched or roasted
½ onion chopped
2-3 cups chicken stock
½ c half and half or heavy cream
1 pinch cinnamon
½ pinch nutmeg
**Can also use 1-2 cups of chopped roasted pumpkin instead of 1-2 cups of the butternut squash to give seasonal flair!
Add squash and onions to blender with cream. Slowly add chicken stock until desired consistency. Add dry seasonings and blend.  (Can make in advance, blend and refrigerate. Heat up when ready.  Or blend warm and eat!)