Butternut Squash Purée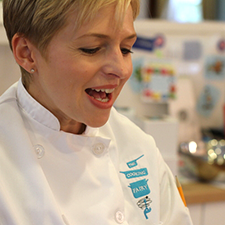 This is a savory take on butternut squash purée which works well with the sweetness of the apples and leeks in the chicken.
Butternut Squash Purée (serves 4-6)
1 medium butternut squash, peeled, seeded and diced into 1-2 inch chunks
2 oz. thick diced pancetta or slab bacon
1/2 cup sour cream
2 tbsp chives
salt and pepper
Cooking Directions: 
Place butternut squash in a large saucepan/stock pot, cover with water, add 1 tbsp salt and bring to a boil. Turn heat down and simmer until squash is tender. Meanwhile, take a small sauté pan and add diced pancetta/bacon (no other oil is necessary) and cook until slightly crisp. Drain the squash and mash with a potato masher. Add remaining ingredients and season well with salt and pepper. Either serve immediately, or place into an oven-proof dish, cover with foil and warm through in oven.
The Cooking Fairy cooks for families from Darien, CT to Purchase, NY and in between. Serving a range of clientele from busy families with toddlers to single parents, from professionals seeking weight loss plans to post surgery patients, The Cooking Fairy offers weekly chef services to families who want to have wholesome, sit-down family dinners without spending the time shopping, preparing, cooking and cleaning — The Cooking Fairy does it all.