Bully-Free Zones at Summer Camp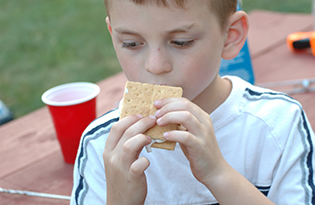 Ah, summer camp. Many of today's parents have fond memories of turning popsicle sticks into crafts, learning how to paddle a canoe without capsizing, burning marshmallows into sticky, black goo at late-night bonfires, and making new — perhaps lifelong — friends. Most are eager for their children to create their own idyllic memories, whether at a day camp or a residential program.
For a minority of camp-bound kids, however, encounters with bullies will mar those memories. While most people think of bullying in connection with school, the sad fact is that whenever a diverse group of kids who don't know each other are thrown together, especially if they spend lots of time together, power imbalances occur, cliques are formed and bullying results.
Proactive Precautions
The good news is, just as schools have become much more proactive about identifying and preventing bullying, so too have camp operators. Thanks to the training that most camps require their professional staff and counselors to take, most instances of bullying behavior are stopped before they get serious. Children who are identified as bullies are sent packing, according to camp directors.
"We don't allow any bullying," says Suzanne Belanger, director of Anne Springs Close Greenway in Fort Mill, S.C., which operates an adventure and environment day camp on more than 2,000 acres. "Bullying is one of those things that starts out small but escalates very quickly. We try to be proactive and stop it from starting."
As part of their training, counselors are taught to identify bullying using the following criteria:
It's repetitive and involves one aggressor and one victim.
The hurtful behavior is deliberate or intentional.
There's an imbalance of power, such as the bully is bigger, older or has a higher social status.
Building Trust
In the vast majority of weeklong camps, counselors never need to determine whether bullying is occurring in their group, says Belanger. One reason for this is the emphasis on team-building exercises — a low-ropes course is one — in which children get to know each other in a trust-based setting and are taught to be responsible for one another. Another bully-busting strategy Belanger's team employs: a low camper-to-counselor ratio of 6:1, which enables counselors to get to know their charges better and kids to feel safer confiding in their counselors if they have problems.
Since isolation from the group is a classic invitation to bullying, counselors are sensitive to group dynamics. "If we see a kid who is sitting alone, we make an effort to talk to them and encourage them to participate," Belanger says.
Respecting Others, Staying Together
Bullying awareness and prevention is also a priority of the Boy Scouts of America, whether it's at meetings, activities, or the day or residential camps that most councils offer. A new nationwide training for leaders and staff emphasizes bullying awareness and prevention, and scouts can even earn a badge for learning about cyber-bullying.
Yet bullying isn't a problem at scout camps, asserts Colin Lemon, district executive of the Old North State Council of the Boy Scouts of America in Greensboro, for a couple of key reasons. One is the program's emphasis on teaching respect for other scouts and for the laws of scouting. The other is the theory that there's safety in numbers.
"All ages of scouts, and even leaders, have to follow the buddy system," says Lemon. "That means that if someone has to visit the bathroom in the middle of the night, he needs to take another scout with him." A would-be bully is less likely to target a potential victim if neither of them is ever alone, says Lemon. If bullying were to happen — and Lemon says he's only seen it once in his career — the offending camper is sent home.
Focusing on Relationships
At the YMCA of the Triangle Area, which operates 100 summer day camps in Wake, Durham, Johnston and Lee counties, staff and counselors go through frequent training to prevent, spot and stop bullying. Last summer, that training kicked up a notch with the participation of Joel Haber, a bullying-prevention expert and psychologist who consults with the American Camp Association, says Marco Ramirez, director of youth programs at the Kraft Family YMCA in Apex and head of the summer camp program.
"We learned from Dr. Haber that the number one way to prevent bullying is to build relationships with children," he says. "Children who might tend to bully won't if they are connected to each other and to their counselors. With the beginning of each weeklong camp — every Monday — we do name games so that campers get to know each other better."
Still, some kids are challenged by the "extremely social" aspects of camp, says Ramirez. To help make sure every kid feels engaged and welcome, counselors are encouraged to join in the organized games campers play to make sure children who are holding back or withdrawing have someone to talk to or another activity to join, says Ramirez.
Bottom line: Camps want your kids to have fond memories of their experience, not nightmares.
As Suzanne Belanger of Anne Close Springs puts it, "We want your kids to come back, so it's in our best interest to make sure they have a good time."
Tips to Ensure Your Camper Has a Bully-Free Summer
Know the difference between bullying and normal childhood aggression. According to Marco Ramirez of the YMCA of the Triangle Area, bullying is the "intentional consistent targeting of one child toward another." If an offender is told he's causing harm and refuses to stop, that's bullying and is often grounds for being removed from camp.
– Talk to camp directors about bullying policies/tolerance before you sign your child up for camp. Ask about specific training counselors have received and the counselor-to-camper ratio, especially in bunks at residential camps. The lower the ratio, the better the supervision.
– Share concerns with the camp director/counselor if your child has been bullied at school. Chances are he or she might be a target at camp, too. The camp staff can be more alert to any bullying behavior directed at your child if they know in advance.
– Empower your child with strategies to diffuse difficult encounters, such as not crying or getting angry, as these reactions typically fan the bullying flames. Reassure children that it's O.K. to go to a counselor if they're being bullied — and if that doesn't get results, to notify other adults until somebody intervenes.
– Resist the urge to let your child take his cellphone even if the camp allows it. Having access to text messaging and social networks makes campers vulnerable to cyber-bullying, whether it's at the hands of other "connected" campers or from "frenemies" back home.
– Expose shy, introverted or "different" children to camp experiences a little at a time, over time. Start out with two-hour or half-day activity camps, building up to sleep-away camp when you think homesickness or other vulnerabilities won't make them likely targets of bullying. If possible, ask if a close friend can enroll at the same time; having an ally helps children feel more confident.