Bringing Healthy Vending to Schools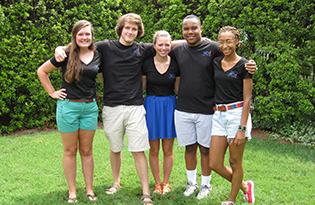 Vending machines offer easy access to snack packs with minimal nutritional value, as well as loads of sugar, sodium and fat. Many teens and tweens, make a meal out of vending machine options at school, which can contribute to extra pounds and unhealthy habits.
A group of local teens is working to change that by raising awareness about healthy snacks. Youth Empowered Solutions (YES!) Real Food, Active Living team is spearheading an awareness campaign to inspire Charlotte Mecklenburg Schools students to adopt healthy eating habits and support healthy vending in schools.
Working alongside the CMS School Health Advisory Committee, the group of five teens that makes up the YES! Real Food, Active Living team is inspiring students at CMS middle and high schools to launch a social media contest that introduces the idea of healthy vending to their communities. The contests and YES! campaign open the door for discussions about healthy snack and vending options.
The YES! Real Food, Active Living team hopes that high school student councils, middle school classrooms and PTAs pick up the idea and make it a priority to promote the healthy vending contest and ideas through Facebook pages and YouTube videos, as well as continuing education days for faculty to promote a better understanding of healthy eating options. The school who logs the most likes on Facebook or views on YouTube wins a taste-test day where they can pick what healthy items they want in the vending machine at their school. Here's to healthy, happy snacking!
To learn more about this work, contact Jenna Simons at jenna@youthempoweredsolutions.org.