Bring On the Chocolate!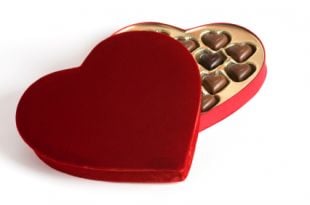 Just over one month of staying on track with my New Year's resolutions I have the ultimate test – a holiday that seems to revolve around chocolate!
But rather than fight it, I say embrace it!
Research has shown that dark chocolate is good for you. Dark chocolate, or rather the cocoa in dark chocolate, has been found to boost serotonin levels in the brain, improving your mood. Dark chocolate also has powerful antioxidant effects.
Antioxidants, compounds found in various foods, have been found to raise HDL cholesterol (the "good" kind) and protect cells from damage caused by free-radicals that contribute to heart disease, cancer and aging. And rich in monounsaturated fat, the same fat found in olive oil, dark chocolate has been found to improve heart health by lowering LDL cholesterol (the "bad" kind). It has even been reported that chocolate is a helpful to those who are dieting because it helps decrease appetite!
While the health benefits of chocolate may be enough for you to exclaim "Bring on the chocolate!" it is important to remember that the health benefits of chocolate are related to the cocoa content of the chocolate. That means that milk chocolate and white chocolate do not have the same health benefits.
Be mindful of the calories and fat. (My No. 1 New Year's resolution is to eat a more nutritionally sound diet.) But health benefits have been reported with as little as 6 grams (about the equivalent of 1 ½ Hershey's Kisses) of dark chocolate a day.
A typical piece of pure dark chocolate from Godvia has about 75 calories and 1 ½ grams of fat. I figure three to four pieces as a snack after dinner, when my sweet tooth is more than I can stand, will fit nicely in my New Year's resolution list: between No. 1 and now No.3 "Go to the gym 4 days a week."
Mary D. Brown is a local nutritionist. Learn more about her work at www.buddingbaby.com