Blumenthal Performing Arts Announces New Scholarship for High School Students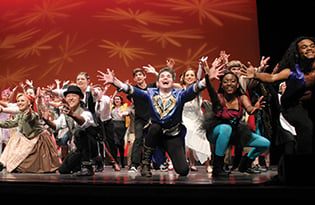 Pictured: The finale at last year's Blumey Awards, the high school performing arts awards at Blumenthal Performing Arts.
Blumenthal Performing Arts recently announced a new scholarship opportunity for Charlotte-area high school students. The Gordon Hay Scholarship, a $5,000 endowed scholarship, is designed for special learning opportunities related to the recipient's career interest in a non-performing area within the performing arts, including professional conferences, participation in an unpaid internship program, professional theatre/music performances and technology needs.
For more information and details on how to apply, visit blumenthalarts.org/scholarships. The Gordon Hay Scholarship winner will be announced at the May 17 Blumey Awards.