Best Charlotte Suburbs for Families
What you need to to know about living north, south, east and west of Charlotte's city center.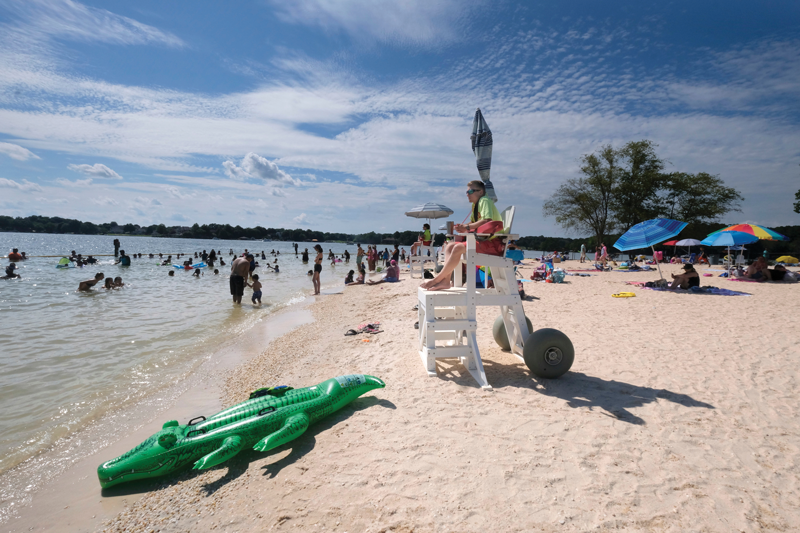 Life Near the Lake
There are many benefits to living in the northern suburbs of Charlotte, including access to Lake Norman, the largest man-made lake in North Carolina, and proximity to Charlotte's sporting events, festivals, or a day of shopping in 20 minutes or less. Having lived in the Lake Norman area since 2003, I've watched the area expand, change and adapt around me. Parents who commute into Charlotte or work closer to home have access to top-rated schools, the arts, and towns that offer something exciting to do almost every weekend, plus a variety of year-round recreational activities.
Cornelius
There's more lake to be found in the ever-evolving town of Cornelius, which was originally a mill town and farming community. Smaller ranch-style houses are available in neighborhoods near Main Street, while newly built townhomes and single-family home neighborhoods can be found on the edges of Highway 115 and Highway 21. Large lake homes line the shores along Lake Norman, as well as the Peninsula neighborhood that has access to The Peninsula Club, which includes a yacht club and golf course.
Residents enjoy lake-access neighborhoods, public parks and annual events like the All-American Dog Show and Symphony in the Park Fireworks. On any given weekend in the spring and summer, there are food trucks and street festivals, plus family-friendly breweries. Ten public parks make outside playtime easily accessible. Robbins Park has a treehouse-themed playground that's popular for the little ones, and public art installations are featured among the paved walking trails.
Cornelius PARC is the town's thriving parks and recreation program. In the summer, Ramsey Creek Park has a public beach on Lake Norman that allows swimming from Memorial Day weekend through Labor Day weekend, along with fishing piers, nature trails, playgrounds, a dog park and picnic shelters. The Charlotte-Mecklenburg Library Cornelius branch library is in the heart of old town Cornelius and offers programming for all ages.
For all the draw of small-town charm with city amenities, there comes congestion — lots of it. Interstate 77 between Huntersville and Mooresville is one of the state's most congested stretches of highway. A highly debated toll lane is under construction, but in the meantime commuters can expect back-ups coming and going to Charlotte.
Davidson
My family has always loved the charming college town of Davidson. With our children enrolled at a small charter school in the heart of town, we were happy to make it our permanent home in 2017. The town is pedestrian and bike friendly, and Main Street is popular for dining out, visiting the independently owned Main Street Books and grabbing coffee at one of the many breakfast spots. Last year, actress Reese Witherspoon made sure to stop by Kindred, a family-owned restaurant in a brick building that once housed the town's pharmacy. The weekends are perfect for shopping for local produce and flowers at the seasonal Farmers Market or browsing through the stores in the heart of town.
Davidson College anchors the town and provides plenty for local residents to enjoy, from touring musicians, theatrical performances, art exhibits and sporting events. Davidson Community Players produces three youth shows per year, plus five Main Stage performances. Just outside of town is Fisher Farm Park, with miles of trails for walking, running, mountain biking and dog walking.
Huntersville
Huntersville is the closest town in proximity to Charlotte. It stretches for 31 miles and includes affordable single-family home neighborhoods built in the late 1990s and early 2000s, as well as rural areas with farms and acreage, and a small downtown area.
Families look forward to the annual Hello Huntersville! festival in the spring and Christmas in Huntersville in the winter. The children's museum Discovery Place KIDS is located right in the middle of downtown, along with nearby restaurants and breweries. Huntersville is also home to Joe Gibbs Racing, which offers a souvenir shop with one-of-kind memorabilia and merchandise.
Birkdale Village is a shopping hub with a movie theater, restaurants, clothing stores and annual Fourth of July parade and Christmas tree-lighting event.
Outdoor enthusiasts can visit birds of prey at the Carolina Raptor Center, or check out Latta Plantation Nature Center and Preserve, with its free nature center, lakefront hiking trails, horseback riding, and the Historic Latta plantation.
Mooresville
In recent years, Mooresville, located in Iredell County, has exploded in popularity, due to more affordable taxes and lakefront property. It's headquarters to many NASCAR team drivers, as well as race museums. Racing enthusiasts can trace NASCAR history at the North Carolina Racing Hall of Fame or rev up their own engines with some go-kart racing at The Pit.
On the outskirts of town, Carrigan Farms is popular for its pumpkins, haunted Halloween trails in the fall, and swimming in the picturesque rock quarry in the summer. Visitors can swim on the public beach or take a hike at nearby Lake Norman State Park.
The thriving downtown area, which used to be little more than a small depot area for unloading trains, is picture perfect with local stores and restaurants, food truck rallies, live music performances, and The Charles Mack Citizen Center, where kids can enjoy a show produced by The Mooresville Community Children's Theatre. You can also take in several of the impressive murals painted on the walls of the historic brick buildings.
Renee Roberson is an award-winning freelance writer who lives in Davidson with her husband and two kids. Visit her website at finishedpages.com.
Where to Explore
DeLuxe Ice Cream, started in 1924 in Mooresville, has served generations of ice cream lovers at its downtown Mooresville store. With flavors like Lemony Sunshine, Sassy Strawberry, and Dreamy Vanilla Cream, it's a favorite family outing any time of year.
Pack a picnic and enjoy one of the Sunday Concerts on the Green in Davidson on evenings April through September.
Jetton Park in Cornelius is situated on 104 acres of lakefront property and features paved walking trails and a sandy beach area.
The annual Carolina Renaissance Festival and Artisan Marketplace in Huntersville takes place from late September through mid-November and provides a fun glimpse back in time with costumed characters, themed events and food.
East Side Suburbia
Life West of Charlotte
Where old-time charm and contemporary cool coexist
By Aleigh Acerni and Michele Huggins
Residents of suburbs to the west side of Charlotte have some of the easiest commutes in the area, as they can often avoid the continuous construction and ongoing congestion of Interstate 77 to the north of uptown. There are other benefits to living in Gaston County, including convenient access to the beautiful Catawba River and a quick exit out of town to the mountains of North Carolina. Here's why you might want to consider settling west
of Charlotte.
Belmont
Charlotte's nearby neighbor to the west is Belmont. A town once dominated by textile mills is now an enclave for Charlotte commuters. A history-meets-contemporary mindset reins here, where historic homes and brick sidewalks mix with newer construction and modern amenities, including free outdoor Wifi along Main Street and a new public mural painted with help from community members.
The town sits at the end of a large peninsula surrounded by Lake Wylie, the Catawba River and the South Fork Catawba River. Belmont's Kevin Loftin Riverfront Park has public fishing, a playground and rental shelters overlooking the river. Runners and cyclists enjoy the Seven Oaks Preserve Trail and downtown Belmont walking routes. The 300-acre Daniel Stowe Botanical Garden includes the Lost Hollow Children's Garden and hosts family-friendly programming throughout the year, in addition to a plethora of seasonal events. Stowe Park, located on Main Street, offers leafy charm, a playground, walking trail and a natural amphitheatre, and is the location of various downtown festivals throughout the year.
Have a cupcake and pint at Riverman Brewery, or wine and small plates at Luna Hombre in downtown Belmont. Get a milkshake at the Belmont General Store, spin cotton candy at The Cotton Candy Factory, and enjoy a Southern meal at Nellie's Southern Kitchen, which is named for the great-grandmother of the Jonas Brothers, who spent her life in Belmont.
Mount Holly
Mount Holly sits in northeast Gaston County, just west of Charlotte and the Catawba River, with a 20-minute commute to uptown Charlotte via Interstate 85. Mount Holly's downtown strip includes restaurants, cafes and shopping with a welcoming vibe. Kids will definitely want to stop at Queen Bee Bakery for a peanut butter brownie or a chocolate chip cookie. On weekends from May through August, Mount Holly hosts what it claims to be the largest all-volunteer market in the state. With a chef-in-residence program, annual Independence Day parade and a special "kids day" at the market, it's a summer draw for residents. Community events take place throughout the year, including Movies in the Park and Food Truck Fridays. A greenway system is planned to connect downtown to the Catawba River.
For those who love outdoor adventure, the U.S. National Whitewater Center located on the Catawba River is a short 3 miles from downtown Mount Holly and offers ample opportunity for kayaking, whitewater rafting, climbing and mountain biking
Gastonia
West of Belmont and about 40 minutes from Charlotte driving south on Interstate 85, Gastonia is riding a wave of growth in recent decades, but remains one of the most affordable suburbs in the area, with a median listing price of $160,000, according to trulia.com.
As the largest city (and county seat) of Gaston County, and third-largest city in the area, behind Charlotte and Concord, Gastonia looks promising for families interested in a lower cost of living. Gastonia's affordable housing includes two historic districts. York-Chester is the city's oldest neighborhood, with 1920s architecture including bungalows, Victorians and New England saltbox homes. The Brookwood neighborhood dates to the mid-1930s and '40s, with many Tudor and craftsman-style homes.
Though not that far from the big-city amenities of Charlotte, residents may feel less of a pull to head to Charlotte from Gastonia than some other Charlotte suburbs as there are plenty of well-established activities.
Stock the pantry at the Dougie Henry Farmers Market located near downtown. Launched in the 1970s, it moved into its current downtown space in 1995, with room for 20 vendors. In addition to fruits and vegetables from the surrounding area, it offers a Power of Produce (POP) club to teach kids about gardening and healthy food.
The Schiele Museum Museum of Natural History, located on Garrison Boulevard, is a well-loved science museum that has permanent exhibits and temporary exhibitions — like Dinosafari with life-size replica dinosaurs — and is home to the James H. Lynn Planetarium and Science Theater. Little Theater of Gastonia produces a wide array of plays and musicals, and Gaston Dance offers professional curriculum for dancers and showcases talents at various performances throughout the year
Mega-store shopping centers along Franklin Boulevard, the main drag connecting Belmont to Gastonia, cater to residents' shopping needs. Eastridge Mall on New Hope Road is anchored by Belk and Dillard's, as well as a variety of other retail and entertainment experiences.
Aleigh Acerni lives and writes from her house in Charlotte, but daydreams about life in the suburbs. Michele Huggins is the editor of Charlotte Parent magazine who spent many weekends as a child at her grandparents' house in Belmont.
Where to Explore
With its beautiful orchid house and grounds, Daniel Stowe Botanical Garden is a favorite destination for Charlotteans. The garden hosts family-friendly events throughout the year, and the Lost Hollow Children's Garden is a 3.5 acre, kid-friendly medieval mainstay.
With 60,000 square feet of science-minded exhibits to explore, including a large collection of gemstones and minerals and a collection of well-cared-for dioramas, the Schiele Museum of Natural History is a great rainy-day family destination. But with an 18th-century backcountry farm and Catawba Indian village staffed with actors in period costumes and a .75-mile nature trail on the grounds, there's a lot to explore when the sun is out, too.
Lake Wylie on the North Carolina-South Carolina state line sits at the confluence of the South Fork and Catawba rivers. With six public boat access points and 325 miles of shoreline, it is popular with fisherman and boaters alike. On the Mecklenburg County side of the lake, there are more than 1,000 acres to explore at the McDowell Nature Center and Preserve, including a campground, playgrounds, picnic areas and more than 7 miles of trails.
Southside Towns and 'Burbs
Big-city amenities with small-town appeal
By Meagan Church
The southside communities of Ballantyne, Matthews, Pineville and Waxhaw combine historic sites with new construction. With a drive time of 20 to 40 minutes from uptown Charlotte, these towns may be small, but are mighty in amenities and offerings for residents.
Matthews
Located southeast of uptown Charlotte, Matthews delights with historic charm alongside new development. Established along trading trails and a rail line in 1879, the town is home to over 30,000 residents with many neighborhoods nestled beneath the green canopy. The downtown boasts a year-round farmers market, craft-beer pubs, locally owned shops and eateries, a public library, and Matthew's Playhouse of Performing Arts.
There are plenty of outdoor activities available thanks to the Four Mile Creek Greenway that connects downtown with Squirrel Lake Park, and Colonel Francis Beatty Park that has miles of hiking and biking trails, and a small lake for fishing.
The new Sportsplex features five multipurpose fields, playground equipment, walking trails and shelters, and is the home playing field for Charlotte Independence soccer.
Ballantyne
What once was farm land is now a bustling business and retail community. Ballantyne has grown to a population of 23,500 residents in two decades. Technically located inside the Charlotte-city limits, the suburb is 20 minutes (without traffic hiccups) from the heart of uptown along major thoroughfares including Interstate 77 and South Boulevard.
Ballantyne is a popular golf destination thanks in part to The Golf Club at Ballantyne — an 18-hole championship PGA golf course that is open to the public. It also houses an outdoor mall, office complexes, shopping centers, chain and upscale dining options, boutique clothing stores, and newer construction homes and apartments.
Nearby Waverly is a walkable community with new single-family homes and townhomes, plus shopping, restaurants, health care providers, business and office space, a splash pad and other activities for families.
Active families can enjoy miles of greenways, Big Rock Nature Preserve, and Ballantyne District Park that features over 2 miles of mountain bike trails.
Pineville
Pineville's historic downtown features antique and home décor shops, a board-game hangout, bicycle repair shop, craft-beer pubs and a year-round farmers market. Incorporated in 1873 and formed at the junction of two major Native American trading routes, Pineville is home to nearly 9,000 residents. Home options range from historic to renovated and new builds, along with apartments and condos. Favorite spots for kids to hangout include Pineville Ice House, Skyzone, Sky High Sports and Carolina Place Mall.
Waxhaw
Dating back to the 1700s, Waxhaw is one of Union County's oldest towns with a current population of approximately 15,000. Depending on traffic, the commute from Waxhaw to Charlotte is about 40 minutes. Homebuyers can find a selection of properties ranging from charming bungalows to new construction, upscale homes. The downtown features antique shops, fine dining, and a farmers market that opens each Saturday. Bike, walk or run on the town's greenways. Explore the massive Cane Creek Park that has boating options, miniature golf, disc golf and camping. Or meander on the iconic pedestrian walking bridge crosses the railroad tracks that run through downtown.
The Waxhaw community comes together to host annual events, including the Spring Kaleidoscope Fest arts fair, concerts by the tracks in the summer, movie nights, an Independence Day parade and fireworks, an autumn festival, and a Christmas parade.
Meagan Church a freelance writer. She lives in Charlotte with her high school sweetheart, three children and a plethora of pets.
Where to Explore
Cast a line with the kids at Cullman Pond, Kid Pond, 17th Hole Pond and Hawkins Pond in Ballantyne. A fishing license is not required to fish at the ponds, but only catch-and-release fishing is permitted.
Pineville Ice House features an NHL-sized rink for public skating, figure skating and ice hockey. It provides year-round classes, leagues, programs, and events for youth and adults skaters of all levels. It also has a pro shop and snack bar. Hours vary according to season, so check the website.
The Cross-State Suspension Bridge is a 170-foot bridge that connects the North and South Carolina Thread Trails. Hikers can access the trail at H.C. Nesbit Park in Waxhaw and hike 3.5 miles after crossing the state line. The trail is suitable for hikers, advanced mountain bikers and leashed pets. The Carolina Thread Trail is a regional network of greenways, trails and blueways that reaches 15 counties, two states, and 2.3 million people. Park at 1304 H.C. Nesbit Park Road.
ZABS Place thrift boutique in Matthews helps young adults with special needs harness their own special talents and prepare them to transition into rewarding careers. Founded in 2014, ZABS offers new and used items for shoppers, and accepts donations of gently used items. It also provides job skills training, entrepreneurial/micro-business, and Upscaling University programs for Specially Talented trainees.
South Carolina's Southern Charm
Why families are putting down roots just across the state line
By Tiffany Wolff
South Carolina's Southern charm has families hopping the border. Popular areas, including Fort Mill, Rock Hill and Tega Cay, lie just 30 minutes south of Charlotte, and still feel within a short reach of uptown Charlotte. Lower property taxes and a surge in development have many families moving down the Interstate 77 corridor.
Fort Mill
Fort Mill is one of the fastest growing cities in the state of South Carolina. Highly rated schools are part of the draw. Schools within the Fort Mill School District have earned an impressive reputation. The 2018 senior classes received more than $31 million in scholarship opportunities. The district works diligently to keep up with rapid growth in population. The district opened its fifth middle school, Pleasant Knoll Middle School, in August 2017. The district's third high school, Catawba Ridge High School, is slated to open in August 2019. This past spring, a successful $190 million bond referendum passed to include funding for two elementary schools and one middle school.
While schools are a priority to many families, Fort Mill's quaint downtown holds shops, bustling restaurants and the local brewery Amor Artis. Near downtown is Millstone Park and playground. Another popular play spot is Walter Elisha Park, home to the renowned Strawberry Festival. Residents also enjoy the shops and restaurants in Baxter Village and Kingsley. In the new Kingsley development, family resources include Small Hands Big Art studio, Pigtails and Crew Cuts, and SafeSplash SwimLabs Swim School.
Rock Hill
Some families are drawn further south to Rock Hill. This growing community of approximately 73,000 residents lies 20 miles south of Charlotte. The city is growing at a rate of 2 to 3 percent per year, says City Manager David Vehaun. The city has a number of charming attractions for families, including the Rock Hill Fire Department Headquarters and Museum, which includes a small, indoor play space. The city holds numerous events and festivals throughout the year, many of which feature art and culture. Popular festivals for families include the Come-See-Me Festival, Glencairn BloomFest, Boo-Ha-Ha and ChristmasVille. In the winter, skate at Founders Holiday Ice Rink, and in the summer, do not miss Food Truck Friday at the Fountain. Pick apples and try some apple cider donuts at Windy Hill Orchard this fall.
Tega Cay/Lake Wylie
Nestled between Charlotte and Rock Hill, Tega Cay is located on Lake Wylie near Fort Mill. The city's waterfront location allows for scenic views and ample outdoor activities. Approximately 11,000 people reside in Tega Cay, and the city has experienced a 15 to 20 percent increase in population growth over the past three years, according to Tega Cay City Manager Charlie Funderburk. Funderburk credits population growth to the reputation of schools, proximity to Charlotte and relatively favorable residential property tax rates. Tega Cay residents attend schools within the Fort Mill School District. Lake Wylie students attend Clover School District schools.
Plans are in place to build Catawba Park, a much anticipated, 61-acre destination that features athletic fields, walking trails, Catawba River access, playgrounds and picnic areas. At Windjammer Park, families enjoy fishing, grills, picnic areas, a playground and two lake beaches. A large portion of Tega Cay's notable Independence Day festivities occur at Windjammer Park, and the park hosts ski shows on Friday nights during the summer.
Other Considerations
Families considering the move to Fort Mill, Rock Hill and Tega Cay should consider impact fees, school freezes and traffic. An impact fee is imposed by the government on a new or proposed development. Impact fees are collected on new construction only. In Fort Mill, impact fees are instituted at just over $18,000 per single family home.
Rock Hill implemented impact fees 20 years ago, Vehaun says. Revenues largely support water, sewer and fire expansion costs. Tega Cay began levying impact fees in August of last year, and Funderburk says fees go toward parks and recreation, police, fire and utilities.
Before buying in an area, parents should research if the currently zoned school has an enrollment freeze. Banks Trail Middle School, Doby's Bridge Elementary School, Gold Hill Elementary School and Tega Cay Elementary School had enrollment freezes for the 2018-19 school year due to population growth and crowding. Population growth has also brought congestion to roadways.
Tiffany Wolff is the calendar editor for Charlotte Parent magazine. She lives in Fort Mill with her husband and two sons.
Where to Explore
Anne Springs Close Greenway, a 2,100 acre nature preserve in Fort Mill, offers a number of outdoor recreational activities, such as hiking, mountain biking, horseback riding, camping, picnicking and kayaking. Events and festivals to check out include, but aren't limited to, Fall Frolic on the Greenway, Earth Day Celebration and Greenway Race Series.
Find educational, indoor fun at the Museum of York County. The museum features a planetarium, Tot Town play area, a naturalist center and changing exhibits featuring natural history topics.
The RiverWalk community features single-family homes, restaurants and shops, and public spaces, including a landing for canoes and kayak, and the scenic 3.25-mile Piedmont Medical Center Trail. It also is home to the BMX Supercross Track, the only bicycle-motorcross, Olympic-caliber training facility on the East coast. The track hosts all levels of events and offers instruction for all ages and skill levels.
Winthrop University is located in Rock Hill. The public university has enrollment just under 6,000, which includes undergraduate and graduate programs. Families can enjoy athletic, cultural and recreational events held on campus, or simply walking enjoy a stroll around the campus lake.