Best Bets on Homeschool Field Trips
Check out these spots for hands-on learning.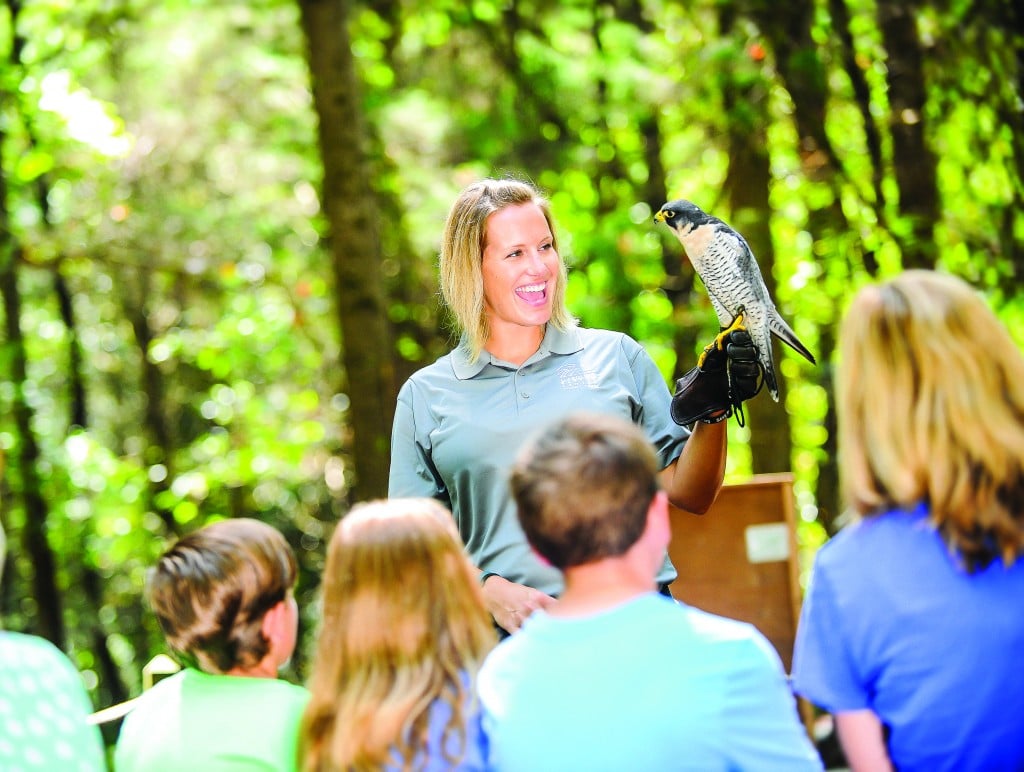 For home-schooled learners, Charlotte-area museums and venues are creating home-school days and programming with emphasis on science, technology, nature, art and history that include a robust list of activities. Many of the activities scheduled at these venues meet curriculum requirements. Whether new to home schooling or someone who has home-schooled for years, take advantage of what these area venues offer families.
Science and Technology
4672 1st Flight Drive, Charlotte
The Carolinas Aviation Museum is a great place for a science and technology field trip. Children can let their imaginations fly while learning about aviation. Four times throughout the year, the museum offers Homeschool Days with guided tours and education stations. Homeschool Days are appropriate for children ages 5-18.
---
6000 Sample Road, Huntersville
The Carolina Raptor Center offers Homeschool Days every few months that include trail walks, scavenger hunts, crafts, and time with the birds, as well as $2 off the regular admission price. The programs meet many science-based goals in home schooling curriculum and are created with children in grades K-8 in mind.
---
1658 Sterling Road, Charlotte
Discovery Place Nature offers frequent programs for home-schooled children. Kids can take a class about geocaching and learn how to use a handheld GPS system or go to the "Stars and Stories" program to hear ancient stories about constellations. Other classes cover ecosystems and animal life cycles. Programs are presented in age categories — grades K-2, grades 3-5 or grades 6-8 — and often overlap in time so that siblings of different age groups can attend field trips at the same time. Call ahead to book a spot.
---
301 N. Tryon St., Charlotte
Discovery Place Science offers an assortment of programs for students in grades K-8. Learn about anatomy, energy, plants, sounds, and climate change. There is often more than one program going on at the same time, so siblings of different age groups can simultaneously attend a program.
---
Various locations
Mecklenburg County Parks and Recreation nature preserves and centers offer educational programs about biodiversity, animals and fossils that can supplement home-school curricula. Most programs are for students age 5 to 14, but there are some guided hikes and programs for older teens.
---
10390 Caldwell Road, Mount Ulla
Patterson Farm offers educational tours suited for young children. Take a farm tour to learn about changes in farming through the years, and go on a Treasure Mine Adventure Tour to learn differences between rocks and minerals. Geocaching tours are available during the summer, and Corn Maize tours are available in the fall. Call to make reservations.
---
5000 Whitewater Center Pkwy., Charlotte
The U.S. National Whitewater Center offers programming for home-schoolers in grades K-12. Participants are put into groups with children of similar age. The price for admission to the programming includes a day pass to the center. After learning about the Catawba River, engineering or animal habitats, explore the grounds and see what other events are happening.
Credit: USNWC
---
HISTORY
5225 Sample Road, Huntersville
Historic Latta Plantation was a cotton plantation in the 1800s. Guests can take tours of the grounds and learn about life on the plantation. Homeschool Days that include a living-history lesson with re-enactors dressed in costume from the 19th century happen a few times throughout the year. The plantation also rents Traveling Trunks that contain books, replica clothes, games and toys that help children learn about life in the 18th and 19th century. The plantation and its various events and resources are geared towards students of all ages.
---
1500 E. Garrison Blvd, Gastonia
Learn about tools from the stone age, American Indians and North Carolina's natural history, and enjoy a planetarium show. Programs are offered to suit many grade levels and curricula guidelines.
---
ART
Uptown | 500 S. Tryon St., Charlotte
Randolph | 2730 Randolph Road, Charlotte
Attend art workshops or photography classes. Children age 6-12 can join an afterschool art club. If you don't want to sign your child up for a class, simply visit the museum. Since the exhibits offer an array of different types of art, a visit to the museum can teach your child about art, history and culture.
Addie Gottwald is a graduate of Davidson College who now lives in SouthEnd.