Be Safe, Be Seen on Halloween!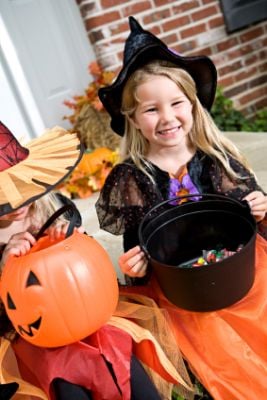 Did you know? Halloween is the most dangerous day of the year for children under 14 to walk? Children are four times more likely to be killed while walking on Halloween than any other night of the year.
Daylight savings time means children may be trick-or-treating in the dark when it is harder for drivers to see them and the excitement of the holiday can make everyone less cautious. To keep kids safe, parents should remind children of basic pedestrian safety rules to ensure that their costumed kids will be seen by drivers this Halloween.
Remind kids to:
• Cross streets safely. Cross at a corner, using traffic signals and crosswalks. Try to make eye contact with drivers before crossing in front of them. Don't assume that because you can see the driver, the driver can see you. Look left, right and left again when crossing, and keep looking as you cross. Walk, don't run, across the street.
• Walk on sidewalks or paths. If there are no sidewalks, walk facing traffic as far to the left as possible. Children should walk on direct routes with the fewest street crossings.
• Do not go trick or treating without adult supervision (Children under age 12). If you are old enough to tick-or-treat without adults, stick to a predetermined route with good lighting.
• Be a safe pedestrian around cars. Watch for cars that are turning or backing up. Never dart out into the street or cross in between parked cars.
Parents remember these tips:
• Decorate costumes and bags with retro-reflective tape or stickers made of light colors.
• Choose face paint and makeup for children instead of masks, because they do not hinder vision as masks do. Look for non-toxic designations when choosing Halloween makeup.
• Kids should carry glow sticks or flashlights in order to see better in the dark as well as be seen by drivers. But be careful when using glow sticks and necklaces. If they break the contents can irritate skin or, if swallowed it may cause nausea.
• Treats should be in original, unopened wrappers. Throw away candy if wrappers are faded, have holes or tears, or if the candy has been unwrapped. In addition, check fruit and homemade treats for punctures or contamination. Allow your child to eat such items only if from someone you know and trust. Fruit can be cut into sections to check for
sharp objects.
• Keep kids away from dry ice. Let your children know that touching or swallowing dry ice can be dangerous. If exposure occurs call the Poison Center.