Back-to-School Resources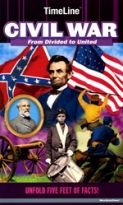 History Unfolds
TimeLine Series – The originator of BrainQuest does it again. The five feet of enticing graphics and color unfolded in each Accordion-style book make history both tangible and fascinatingly entertaining. Whether explorers interest your child, or the American Revolution, there's something for everyone in this unique at-a-glance guide. Filled with battle facts, colorful maps, blueprints, historical mistakes, unexplored treasure, and silly facts about the presidents you can insure that this is not your everyday history book.
Brain Quest Workbook – "It's Fun to Be Smart"
Loved by kids, and adored by parents and teachers alike, the BrainQuest workbooks are the perfect tools needed to help parents instill a positive attitude toward academic success. Offered in six books beginning with Pre-K students all the way through Grade 4, this is just what kids need to get a leg up in all areas of curriculum. Fun additions include more than 150 stickers, a certificate of completion, a pull-out poster, a BrainQuest game with mini Q&A cards and so many fun activities. Even the most textbook-phobic child will surely enjoy this award-winning series.
Feed 'em Breakfast, Fill Those Lunch Boxes
Barbara's Organic Wild Puffs
An organic breakfast cereal, this product is not new, but the addition of prebiotics makes it worth looking at again. Charlotte Parent staffers taste-tested the four varieties: Honey Puffs, Fruit Medley, Cocoa Grahams and Crunchy Cocoa. Our favorite: Fruit Medley!! We took this cereal home to our kids and they gobbled it up – never suspecting it was good for them!
Puffs are free of wheat, artificial flavors, colors, preservatives, cholesterol, hydrogenated oils and trans fats. All packages feature engaging puffin activities on the back panel for breakfast reading pleasure. Wild Puffs, retailing for $4.99, are available at Berrybrook Farms, The Fresh Market, Earth Fare, Home Economist and Harris Teeter. www.PuffinsCereal.com.
Oatmeal on the Run
Country Choice Organic, a leading national maker of organic oatmeal and cookies, has created Oatmeal on the Run — a soft and chewy "grab and go" oatmeal bar available in three tempting flavors — Oatmeal Raisin, Maple and Apple Cinnamon. " … there's a bowl of instant oatmeal baked into every moist, delicious bar," says John DePaolis, Chief Cookie Officer at Country Choice Organic. While formulated as a convenient breakfast, Oatmeal on the Run is also a perfect snack for kids running to sports and activities and for family outings. Suggested MSRP for the five count package is $3.99 (natural stores) to $4.19 (grocery).
Juice Box Alternative
Clocking in at 40 calories per 12-oz. serving (1 bottle), bot is a lightly-flavored water that is naturally sweetened, resulting in a drink that is refreshing, crisp and clear! All four flavors (berry, grape, orange and new lemon) are fortified with vitamins B3, B5, B6 and B12 — essential nutrients for kids' health and growth. bot is sold nationally at Whole Foods Market, Amazon.com and botbeverages.com, and is also launching regionally at supermarkets. bot retails for $1.49 per bottle. www.botbeverages.com.
LiveActive Chewy Granola Bars
Kraft is introducing new LiveActive Chewy Granola Bars, the first-ever, non-refrigerated bar containing both a live probiotic culture and fiber. Probiotics are live cultures that exist naturally in the digestive system and are important to healthy digestive functions. They are also found in dairy products like yogurt and some natural cheeses. LiveActive Chewy Granola Bars come in three great-tasting varieties: Blueberry Almond, Chocolate Raspberry and Peanut Butter. Look for them in the bars section of stores nationwide for a suggested retail price of $3.59.
Flavored Tumaro's Gourmet Tortillas
Unlike soggy white bread, these tortillas contains heart-healthy canola oil, so they are more flavorful, tender and pliable longer in a lunch box or locker. All of Tumaro's new and improved healthy flour tortillas and wraps are low-fat, made with 87-89 percent organic ingredients; contain no lard or cholesterol; have 0 grams of trans fats and are certified by the American Heart Association. Choose from fun flavors like: Garden Spinach & Vegetables, Sun Dried Tomato & Basil, Jalapeno & Cilantro, Chipotle Chili & Peppers, Pesto & Garlic, Honey Wheat and Premium White. SRP $2.59-$2.99. Purchase in Charlotte at: Harris Teeter, Lowe's Foods and Wal-Mart Supercenters. www.tumaros.com.
Finish Up Lunch with Gummi Bears
A great alternative to snacks packed with artificial flavors and colors, these Organic Gummi Bears are USDA certified organic, gluten-free and gelatin-free. Manufactured under strict organic controls in Germany (the home of gummi bears) these gummies come in four flavors: Classic Gummi Bears, Jelly Gummi Bears, Super Sour Gummi Bears and Fruity Gummi Feet. Each box contains four individually wrapped, 80-calorie bags of gummies. They are available in Charlotte at Berrybrook Farms, Earth Fare, Home Economist and Village Organics for $2.89 a box. www.edwardandsons.com.
Kids Lunch Box Cards
Slip an extra-special note into their backpacks or lunch boxes. Elaborately drawn and loaded with fun facts and cool ideas, Kids Lunch Box Cards include topics like Wacky World, Fairies, Riddles, Gross-Outs and Looney Laws. There's also space on the back for a special note to your child. The cards come in packs of five at $5.99/pack. Check them out at www.kidslunchboxcards.com.
———–
Homework Web Sites
The next time your child is looking for a subject for a term paper or trying to remember the capital of Utah, direct him or her to some of these Web sites.
Kid Info
www.kidinfo.com features sections on American History, World History, Foreign Language, Current Events, Mathematics, Science, Computers, Music, Health, Art, Geography/Social Sciences and Language Arts. Grades K-12.
Infoplease
www.infoplease.com/homework is a huge, free reference site offering help with writing and study skills as well as providing students with a conversion calculator, encyclopedia, dictionary and almanacs. Help by subject — English, math, history, geography, science — is also available.
Fact Monster
www.factmonster.com is produced by the publishers of Information Please®, and features atlas, almanac, dictionary and encyclopedia links. The Web site has several sections: U.S. and World History includes documents, speeches, timelines and a year-by-year history feature; Word Wise has information on grammar, spelling and books; Mathematics addresses everything from multiplication to nautical measurements; People, highlights United States presidents, women of influence and biographies; and a Sports section features information on the Olympic games, women in sports and a math baseball game. Each section includes fun games and quizzes designed to reinforce learning. Grades K-6.
Homework Spot
www.homeworkspot.com is great for science fair project ideas, math and general how-to info. Resources are organized by subject and grade level.
AAA Math
www.aaamath.com is a Web site dedicated to basic math skills. It features hundreds of pages of explanations, interactive practice, challenge games and randomly created math problems. The best feature of AAA Math is that children can enter the site by either grade level or topic. Grades K-8.
Ask Dr. Math
www.mathforum.org/dr.math is where to go for all your math needs, with sections for questions and answers, puzzles, word problems, flash cards and definitions. It is divided into school groups for elementary, middle, high school and college students. Grades K-adult.
Time for Kids
www.timeforkids.com is written for children and in some cases by children. It presents national, science, world and school news in a concise easy-to-understand format. The Web site, from the publishers of Time magazine, features games, a homework helper and interviews and articles specifically of interest to children. Grades 3-8.
Ask Jeeves for Kids
www.ajkids.com is the answer guy for children. Students can ask Jeeves a question, and be referred to the appropriate child-friendly Web site. Grades K-8.
National Geographic.com Kids
www.nationalgeographic.com/kids is a great site for curious kids. Developed by National Geographic, it offers homework help, activities, experiments, games and a link to National Geographic Kids magazine. There are also sections on Animals, History, Science/Nature and Maps. The Map section has a really great feature called the Map Machine, where children can search for facts on any place in the world by clicking on an interactive map. Grades K-8.
Net State
www.netstate.com features everything a student needs to know about the 50 states. There is information on state symbols, flags, capitals, maps, songs, almanacs, quizzes and lists. Grades K-8.