Baby Slings, Wraps, Carriers and Swaddling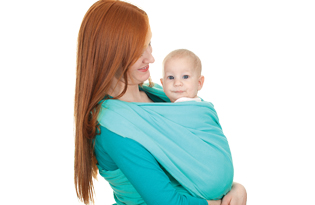 Babies love and need to be snuggled in those early months, but new moms also know it's nice to be able to carry their baby and be hands-free. Slings, wraps and carriers enable moms and dads to get around with their baby snuggled close while doing other things. Following is a breakdown of the different types of baby carriers.
Pouch sling:
A pouch sling is a wide piece of cloth sewn into a tubular shape that is slipped over the wearer's head, and draped across one shoulder to the opposite hip. An infant is supported either in a cradle position or upright on the parent's hip in the sling. Note: To prevent the risk of suffocation when using a sling, be sure your baby's head, face and neck are visible and that he or she doesn't become too tightly curled, chin to chest.
Ring sling:
With ring slings, one end of the cloth is sewn to two metal rings. The other end of the cloth can be threaded through the rings to create a pocket, or hammock, for the child. This type of sling can easily be adjusted to a different wearer's size, which is good for moms and dads to be able to share.
Wraps:
Wraps are long pieces of fabric, often made out of stretchy, jersey material, that are wrapped and tied around the wearer and the baby. A baby can be worn on the wearer's front, back or hip with a wrap. Wraps offer more balanced support by going over both shoulders and around the waist compared with slings that go over one shoulder.
Front carrier:
There are many brands of front carriers on the market, but all are similarly made with two shoulder straps that attach to a fabric "seat" that is snapped on the wearer. It's like wearing a backpack on the front with an infant snuggled on the wearer's chest. Be sure all buckles, snaps and belts are in proper working order before using a carrier. CP
How to Get the Perfect Swaddle
By Melissa Troutman
The American Academy of Pediatrics recommends that babies sleep on their backs. Research shows that swaddling helps keep babies on their backs and is also soothing. A tight swaddle inhibits babies' startle reflexes by gently restricting arm and leg movement, thus helping them have longer, uninterrupted sleep – every new parents wish!
Here are some tips for achieving the perfect swaddle:
1. Place a square blanket on a flat surface in a diamond shape and fold down the top corner to form a straight edge.
2. Place the baby on his back so the top of the fabric is at shoulder level.
3. Bring the baby's left arm to a comfortable position, usually at his side. Pull the corner of the blanket that is near the left hand over his arm and chest, and tuck the edge under his back on the right side.
4. Bring your baby's right arm down. Pull the corner of the blanket over his arm and chest, and tuck the cloth under his left side.
5. Tuck the tail loosely behind the baby, making sure both legs are bent up and out from his body. The baby's hips should be able to move and legs should be able to spread apart naturally.
— Melissa Troutman is a registered nurse at Carolinas Healthcare System.