Attractions in Columbia, South Carolina, Offer Educational Opportunities for All Ages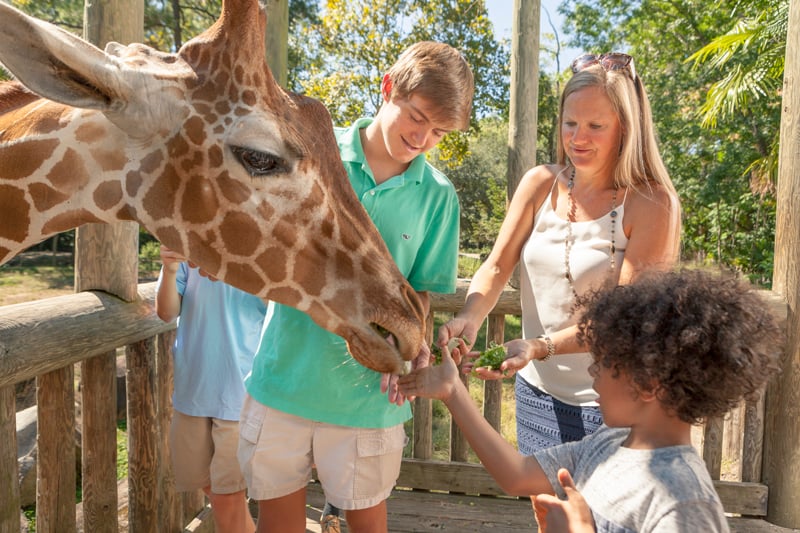 If you're headed south this summer, consider a day trip or weekend stay in Columbia, South Carolina, a charming city filled with kid-friendly activities. A quick 1.5-hour drive from Charlotte and doable 3.5-hour drive from Raleigh, Columbia offers outdoor recreation, educational museums and family activities for end-of-summer fun.
As the largest children's museum in the South, EdVenture Children's Museum should be at the top of your things-to-do list while visiting Columbia. Walk in the front doors and your kids will be in awe of "EDDIE," a 10-year-old boy who is 40-feet tall and weighs more than 17 tons. "EDDIE" isn't a statue. He's an interactive exhibit children can explore to learn how our bodies work. Climb up and down his vertebrae to see his brain, heart, stomach and more. Additional exhibits include "Wags and Whiskers," which teaches kids about the care and health of pets; and "Maker Works," a makerspace workshop area to bring your child's creativity to life.
"World of Work" is a kid-size city designed to help kids learn more about jobs. They can climb a 24-foot fire truck, take orders at a diner, shop at a neighborhood market, sit on the tractor and learn about care car in a full-size Chevy.
EdVenture Children's Museum also offers a putting course, carousel and TV station center where your little ones can pretend to give news updates. Admission is $11.50 for children and adults ($10.50 for members of the military, educators and ages 62 and older). Learn more at edventure.org.
More than 2,000 animals call Riverbanks Zoo and Botanical Garden and its natural habitat exhibits home. See giraffes, zebras, lions, tigers, koala bears, kangaroos, sea lions, grizzly bears, otters and more. Feed a giraffe at the overlook or walk beside the kangaroos in the kangaroo walkabout. Periodically, zoo visitors can participate in animal feedings and watch animal demonstrations and educational presentations. Be sure to check riverbanks.org for the latest schedule.
Enjoy several interactive activities designed for kids. Waterfall Junction at the Riverbanks Botanical Garden is a 3-acre garden with treehouses, playhouses, a splash zone, the Dino Dig, a life-size Tyrannosaurus rex replica and more. Kids can also experience a carousel, train ride, climbing wall, vertical ropes challenge and zip lining course activity.
Zoo tickets can be purchased online and are $15.95 for ages 13 and older, $13.50 for ages 2-12 and free for guests under age 2. Learn more at riverbanks.org.
The South Carolina State Museum is 225,000-sqaure-feet and features exhibits, a planetarium, only permanent 4-D theater in the state and an observatory. The museum houses more than 100,000 artifacts that represent the art, natural history, science and South Carolina culture.
The 55-foot digital dome planetarium brings the night sky and universe to life with daily programming. Shows change each month. Be sure to check the museum website for the schedule.
In the 4-D theater, immerse yourselves in a 3-D visual world while also experiencing physical effects such as a water spray and vibrating seats. Museum admission is $11.95-$19.95, depending on age and type of ticket. Learn more at scmuseum.org.
While visiting Columbia, consider exploring Saluda Shoals Park for outdoor recreation. This scenic 400-acre park along the Saluda River features traditional and splash water playgrounds, trails, a wetland preserve, a kayak/canoe launch area and more. Learn more at icrc.net/saluda-shoals-park.
Columbia, South Carolina, is in the path of totality for a monumental solar eclipse, which will occur Monday, Aug. 21, and is projected to be the most viewed total eclipse in history. A total solar eclipse happens when the sun, moon and earth line up so perfectly that the moon blocks the sun. Columbia is uniquely positioned to experience the longest total eclipse time on the East Coast, with darkness expected for 2 minutes and 36 seconds. The next time a total solar eclipse like this will be visible from the Columbia area is 2078.
A variety of special events and viewing parties are scheduled leading up to and on Aug. 21. The South Carolina State Museum, for example, is hosting several events beginning Friday, Aug. 18. There will be a planetarium show titled, "Shadows From Space" as well as pop-up stations and astronomy, space and educational programs covering the eclipse. Gen. Charles Duke, an Apollo 16 astronaut, is also scheduled to make an appearance.
For more information about eclipse events, visit totaleclipsecolumbiasc.com.
---
Myra Wright is the web editor of Carolina Parent and Charlotte Parent. She frequently writes about kid-friendly destinations and enjoys exploring new places with her husband and three kids.