Ask the Experts | Fit Family Challenge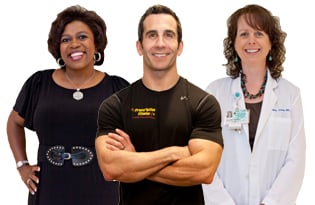 We've assembled top local professionals to advise and coach our Challenge Families and they can help you too.
Paul Sklar, founder and personal training director of Prescriptive Fitness, has been motivating and helping individuals get fit for 20 years. He offers inspiration and fitness tips to keep Kelly Fluharty and her son Christopher, Marjorie Valle and John Davis, and their kids moving.
Elaine Jones, our fitness expert, is the clinical nutrition manager at Carolinas Medical Center-University. She has been working closely with the families to offer better ways to shop, cook and eat. Her guidance has been especially helpful for the Valle-Davis family whose 12-year-old daughter, Joi, is diabetic.
And, Kim Jacobs, a life balance expert and host to her own talk show, offers no-nonsense advice on finding balance in family life, no matter the circumstances.
> Read more about the Fit Family Challenge