Appalachian Ski Mountain – It's Snow Much Fun!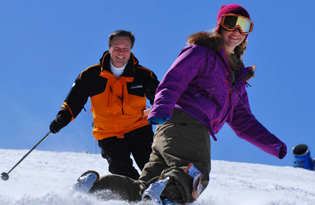 A trip to Appalachian Ski Mountain is just what you need to get your family fueled for some North Carolina winter fun. Located in Blowing Rock, an easy two-hour drive from Charlotte on U.S. 321, this mountain is packed with fun activities for kids and just the right size for first-time snowboarders and little ski bunnies. It easily could be a day trip; tuckered out kids could snooze in the car on the drive home.
We left one morning around 9, two snowboarders and a skier (me!), on an impromptu adventure to catch the snow from an early winter storm. Parking was a breeze and the rental process was streamlined with skis, boots and poles in one area, snowboards in another. And, don't forget helmets. There are many packages for lift tickets and rentals, or packages with lessons and ski or snowboard school.
The French Swiss Ski College is a leader in the region. For kids, ages 4-10, the SKIwee program (full day or afternoon) includes playtime, instruction, rentals and lift tickets. For more independent children, ages 6 and up, and adults the Learn to Ski/Snowboard package is designed to make your family's first experience on the slopes fun and easy.
Families with snowboard enthusiasts will be hitting the App Terrain Park, featuring more than 30 rails for grinding and jumps. It was one of our first stops; I skied down parallel to watch as my snowboarder took on the course with gusto. He was a little rusty and caught a shin on the first rail for a nasty cut. It gave us a chance to check out the First Aid Station at the lodge below, where we found friendly, caring staff who applied Neosporin, Band-Aids and encouraging words. If your family is like ours, you'll need to locate this important spot before getting on the lifts.
A manageable mountain, with three chairlifts (one double, two quads), plus a conveyer lift, it is easily conquered in a day, with runs for all levels of skiers and snowboarders. The terrain parks offer easy to advanced courses that continue to be a hot attraction for kids.
For something different, try night skiing from 6 to 10. There's nothing like the still of night to appreciate the beauty of the mountain, though it's much colder without the benefit of the sun shining on the slopes. Younger kids may be too tired or cold to truly appreciate it.
There's still more to entertain your family at the 6,000-square-foot ice skating rink. Voted by Treakaroo.com as one of America's top 10 outdoor skating rings for families, the rink at Appalachian Mountain offers an outstanding view of the slopes and a giant fire pit for warming up.
After a long day on the snow, hungry skiers need food, so visit cozy Headwaters Pub at Chetola Lodge for a pizza, burger, or even a juicy steak. You might change your mind about driving home, (we did) and bunk down at this historic lakefront resort, voted "one of the best stays in the Blue Ridge" by Southern Living magazine.
A family-friendly winter wonderland is just a short drive away. Whether you stay the night or make it a day trip, get over to Appalachian Ski Mountain and enjoy skating, skiing and snowboarding this season.
If You Go, You Need To Know…
Appalachian Ski Mountain
Blowing Rock, NC
800-322-2373 reservations
828-295-7828 snow report
On the Web
www.appskimtn.com
www.appterrainpark.com
Rates (vary by session*)
Ages 13-adult, $18-$61
Children 6-12, $16-$44
Children 5 and younger ski free with a ticketed adult
Rental skis/boots/poles $7-$26
Snowboards and boots $18-$35
*Sessions: Day, Super, Half, Twilight,
Night, Midnight Blast
Detailed pricing available online.
Lodging
Chetola Resort
500 Main St.
Blowing Rock, NC
828-295-5500
www.chetola.com
28 rooms and 100 condos
Packages from $172 per night; double occupancy with lift tickets.
Kids love the indoor heated pool and DVD rental station.
Related Links: 
> Mountainside Savings: Tips for Frugal Family Ski Vacations
> Sweet Snow at Sugar Mountain
> Skiing, Snowboarding and Tubing Getaways in N.C.
> Tubing at Hawksnest