Anthony Hamilton On Home in Charlotte, Family and His New Holiday Album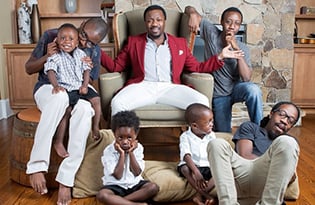 Grammy-award winning singer Anthony Hamilton knows a thing or two about making great music, but he's also is skilled in the art of being a parent. Hamilton, 43, has six children ranging in ages from 26 to 2. He grew up in Charlotte and attended South Mecklenburg and Harding high schools before embarking on his music career, and currently calls Charlotte home. His latest project is the newly released holiday album "Home for the Holidays," and puts a soulful twist on of holiday favorites plus some original songs. The album also features Chaka Khan, Gavin DeGraw and singer-songwriter maven ZZ Ward. We caught up with Hamilton to ask him about life as a recognized musician, being a dad and how his favorite things about the holidays.
You have six children, yes?
Yes, I have Anthony, 26; Romeiro, 23; Tristen, 17; twins Nolan and Eric just turned 4; and Princeton is 2.
Sounds like a busy household.
Yeah, it can be.
What's it like to be a parent to children in all different ages and stages?
I get to see all the different personalities that different ages bring.
Is it difficult?
It's not too difficult because I'm singing. So, I can be coming in at anytime and I have the older brother who's like "alright," who will step up and step in. It takes a village to raise kids, so I got my own village.
How do your kids feel about your fame and having a famous father?
They don't care. They don't really care at all. Some days it's cool, some days I gets on their nerves, they just want me to be daddy. They don't want [anybody] bothering me when we go somewhere together, but now I think that they know that they are No. 1 and that [my career] not going to take anything away from them.
What are the three most important values you try to instill in your children?
Christianity. I'm a Christian, so I instill the love of Christ and to be good to people. Honesty! Being considerate. Yeah, being considerate of other people.
Are any of your children following in your musical footsteps?
Yeah, Nolan sings All. Day. Long. He won't stop and he has a good voice. My older son, Anthony, does techno trance and dub step music, that kind of stuff.
So a little bit different from your soul influence?
Yeah, and my 17-year-old said the other day, "I'm starting to dabble with music dad."
How do you feel about them following in those footsteps, are you worried or do you encourage it?
I encourage them to be great in whatever it is. If it is a hamburger, it better be the best hamburger you ever made.
What are some of the things you like most about Charlotte, both new and old?
The old stuff I like about Charlotte – the family aspect of it used to be open and very family oriented. That's what made me fall love with coming back home. The new stuff – people are more open-minded and it's more like a city, opposed to a small town.
What was your inspiration for "Home for the Holidays" album?
To bring back that feeling I had when I was a kid; to feel good and relaxed during Christmas time, a feeling that I'll never forget.
Do you have a favorite song on the album?
"Home for the Holidays" is one of my favorite songs. That's a very beautiful song.
Does your family have any holiday traditions that you are looking forward to?
Eating until you drop!
GET THE MUSIC:


Download Anthony's new album at homefortheholidays.anthonyhamilton.com or purchase it on Amazon.com.