American Presidential Experience 2012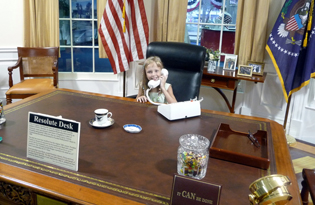 Sept. 3 through Sept. 6, Charlotte will be a hot spot of national attention as the Democratic National Convention convenes in uptown. Though most of the events are geared to politicians, politicos and political die-hards, the "American Presidential Experience 2012" is designed to engage and educate all ages in American presidential history, from the time of George Washington to Barack Obama.
The 30,000-square-foot exhibit is the largest traveling exhibit of presidential icons of the modern era. It includes more than 35 displays, including an actual Boeing 707 fuselage that has been made into a replica of the Air Force One used during Ronald Reagan's presidency and a full-size Oval Office replica. There also are replicas of inaugural gowns worn by the nation's first ladies and items that chronicle the lives of the White House's furry and feathered occupants, plus loads of Lincoln Logs that children can use to build a frontier village.
Find the exhibition on the corner of West Third and South Mint streets from Aug. 31 through Sept. 8. Ticket prices range from $7.95 to $14.95, and admission is free for children 6 and younger. Family and group rates are available. For information, go to presidentialexperience.com.