American Girl Boutique and Bistro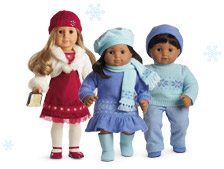 If "Samantha," "Addy," "Felicity" and "Josefina" are everyday words at your house, a trip to Atlanta won't be complete without a visit to the American Girl Boutique and Bistro. Located at North Point Mall in Alpharetta, the store is on the North Carolina side of Atlanta, so it's very convenient for Charlotte-area parents.
Last spring, five of us — two mothers and three daughters — made the journey, and we stayed right around the corner from the store at the Embassy Suites. It was so convenient we were able to arrive the next morning when the store opened at 10 a.m.
Our pre-planning paid off: We were first in line to make "hair appointments" for the dolls. We left the dolls in the hair salon and were told to return in about 30 minutes if the girls wanted to watch the styling. The hairstyle choices varied based on hair length. Our girls spent $20 or less on each doll to have braids, ribbons and curls.
We shopped before and after the salon appointments. The boutique is set up with displays and videos of the history of the dolls and their stories. And it was great to see the products, as all of us had only catalogue shopped before.
The store carries a rotating selection of the company's popular dolls, outfits and accessories, as well as a variety of its best-selling American Girl books.
We ate lunch at the Bistro, where the girls received menus for themselves, as well as for their dolls, who were seated in chairs that slid into the sides of the tables. They also received star-shaped cookie cutter napkin rings that doubled as bracelets for the dolls.
The "Create Your Plate" menu offers choices that are Mom-approved. Dessert was the highlight, too, as we shared a 3-foot-long banana split. Lunch was reasonably priced at $14.50 per person, plus tax.
The boutique also had nice party rooms, beautiful cakes for birthday girls and a great soda-fountain type bar (you can have lunch here, also).
After lunch, we did a little more shopping in the mall and returned to our hotel. Embassy Suites in Alpharetta offered a free, full-service breakfast and a manager's reception for moms, which we figured we'd need after a day with three girls and their dolls. It also had an indoor heated pool, which our daughters thoroughly enjoyed.
Want To Go?
American Girl Boutique and Bistro, North Point Mall, 1202 North Point Circle, Alpharetta, 888-777-0010 — www.americangirl.com/stores/location_atl.php
Store hours (Dec. 1-30; closed Christmas Day) — Monday-Friday, 10 a.m.-9 p.m.; Saturday, 9 a.m.-9 p.m., Sunday, 11 a.m.-7 p.m. Hours may change; call ahead about Christmas Eve and New Year's Eve.
, 5955 North Point Parkway, Alpharetta, 678-566-8800 — www.embassysuitesalpharetta.com
Sharen Swintek is a Huntersville mom and former Charlotte Parent staffer