A Real Estate Pro on Why Charlotte's a Great Place for Families
Brenda Hayden is the 2019 president of the Charlotte Regional Realtor® Association and CarolinaMLS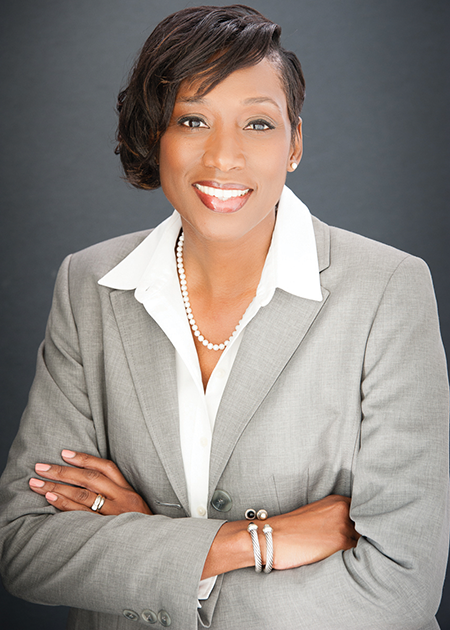 CHARLOTTE IS A THRIVING CITY in the midst of a population boom. For a birds-eye view of the Charlotte real estate market, we spoke to the Brenda Hayden, the 2019 president of the Charlotte Regional Realtor® Association and CarolinaMLS. She also is a long-time Charlotte resident. She and her husband are parents to two children. In her spare time, she enjoys time with her family, hiking, and volunteering in the community with organizations that focus on eliminating homelessness.
Charlotte has seen tremendous growth in the past five years. For newcomers, how would you describe Charlotte's current real estate market? And how is it changing to accommodate the surge in population?
Charlotte and its numerous bedroom communities are spread out like a patchwork quilt and present a blanket of opportunities for families to find communities, neighborhoods and homes that fits their lifestyles. Charlotte is really a regional metro market that includes 12 North Carolina counties and four contiguous South Carolina counties. In the past three years, there has been a lack of inventory, especially in price points under $300,000, which is compounded by some 60 people on average moving to the area each day. That's why it's important to talk about real estate from a regional perspective.
---
What makes Charlotte attractive for families looking to relocate?
Charlotte's overall cost of living for a major urban city is still lower than other cities of equal size or larger. There are many family-friendly places to visit and events to attend. Charlotte truly offers four seasons to enjoy and is within two to three hours of the mountains and beaches.
What's your advice to a family moving here: rent first or buy?
I've had families that move due to jobs that often have a short window of time provided by their company before they start working. For families in this position, I advise them to seek a short-term rental that allows them to learn more about the area before making a longterm decision like purchasing a home. Families that are able to be more intentional about their move and benefit from the advice of a Realtor® may be better suited to buying.
Which neighborhoods and suburbs seem to draw the most attention of families?
Families typically look at a number of factors when determining where to purchase. My advice has always been to consider your family's current lifestyle demands. While some people may opt for life in the suburbs, such as Ballantyne, Highland Creek, Huntersville, Steele Creek and Berewick, I've had a number of clients relocate from larger urban areas who are seeking in-town neighborhoods like Dilworth, Selwyn, Wilmore, Elizabeth and Starmount. Buyers have to decide whether they're looking for new construction, which typically is found in the suburbs, or if they want the charm of the older, in-town bungalow that might need a bit of love and care. The overall construction of the home, ease of commute to work, stability of the neighborhood, proximity to services and amenities, and future appreciation are all major factors driving where buyers choose to live.
---
How would you describe the style of homes here, and what's the average price of a home and square footage?
Charlotte has a number of different communities and neighborhoods, from single-family traditional homes nestled in older, established neighborhoods to new construction traditional stick-built homes in the suburbs with three-to-four bedrooms and two-car garages. Buyers who are looking at neighborhoods closer in-town can find older bungalows that are nestled on tree-lined streets with smaller lots, many of which are in designated historic neighborhoods. A number of Charlotte suburbs boast 2,500-3,000-square-foot traditional, colonial-style and contemporary homes.
In neighboring counties, larger estate homes on sprawling acres or overlooking the lakes are available. There are townhomes and cluster homes in a number of unique communities and neighborhoods throughout the area, too. Again, the type of home purchased is dictated by the lifestyle and needs of the families that are buying. The average sales price of a home in the Charlotte metro region in March 2019 was $289,600.
In your opinon, what makes Charlotte a great place for families to choose to live?
We have big-city amenities and small-town charm. Newcomers are always impressed with the quality of our health care, array of professional and semi-professional sports teams, cultural venues and relatively low cost of living. Charlotte is also home to Lake Norman, the largest man-made body of fresh water in North Carolina, and Lake Wylie just south of Charlotte. Families can find a number of entertainment and recreational venues, including Great Wolf Lodge, the U.S. National Whitewater Center and Carowinds.
---
What can families moving here do to make Charlotte feel like home?
There is an emphasis on getting active in your community, whether it's through faith-based organizations, volunteer work, experiencing arts and culture, or attending any number of sporting events. One of our best assets is the many parks and over 30 miles of greenway trails that provide families the perfect opportunity for walking, biking, rollerblading or running. Summer camps are a great way to have children quickly make new friends in their new hometown. The YMCA of Greater Charlotte has numerous branches and is another great family resource.
What are your tips for choosing a real estate agent?
Buying a home is the largest investment most people ever make, and therefore I always tell people to make sure they work with a Realtor® and not just a real estate agent. A Realtor® is a real estate agent or broker who is a member of the National Association of Realtors and adheres to a strict code of ethics to honestly and fairly treat clients.
Realtors® sell a lifestyle, not just homes, and I think that the truly savvy buyer understands this, which is why we see so many buyers in the Charlotte market overwhelmingly use a Realtor®. In fact, according to a 2018 survey of Charlotte buyers, 84 percent used a Realtor®.
Overall, people should know that Realtors® are client advocates, market experts and shrewd negotiators. A Realtor® should be knowledgeable of changing market dynamics, offer an objective perspective and share their expertise. Before hiring a Realtor®, buyers and sellers should take note of the experience of the Realtor®, the number of homes sold and the price of the homes typically sold. This may require that you discuss your family's specific needs, desires and expected outcome with a few candidates before hiring your forever Realtor®.
Michele Huggins is the editor of Charlotte Parent magazine.