A Hootenanny for the Family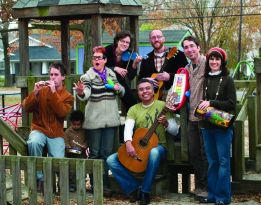 Sometimes the best idea comes together when, and where, you least expect it. For a group of local parents, the brainstorming took place on their kids' preschool playground. The group is a mix of accomplished musicians, whose children attend Plaza Presbyterian Weekday School. Through a collaborative project, called The Plaza Family Band, they produced an eclectic CD of original and traditional children's music as a school fundraiser. Recently, some of the band members shared a little about their musical lives and how the CD, "Playground Hootenanny," came together.
Q: How does music fit into your children's lives?
"It is important to me — not that my kids have formal lessons, but that they know people who play music. It makes it a normal thing to do and makes them want to play more than seeing a concert does, because they attach a real person to it," says Beth Brown, formerly a fiddler in Carolina Gator Gumbo.
"Music is almost always on at our house. We also have lots of musical instruments lying around — guitars, harmonicas, toy pianos and shakers. It's exciting and contagious when they get picked up and played, but there is zero pressure to do so," says Mike Strauss, a songwriter and guitarist who has released four solo albums in the last eight years.
Q: How did you get the idea to make the CD?
"A couple of years ago, a few of us put together a band to play at a school fundraising event, and we all had a blast. A year or so later, while discussing fundraising options for the school, it occurred to me that we could put our talents together again and record a CD of kids songs as a fun way to raise some money," says Strauss .
Q: What did you enjoy the most?
"… I was surrounded by exceptional musicians and didn't know the degree of their talent," says Clifton Castelloe, producer, singer and songwriter by naptime and night, and part of the award-winning acoustic guitar duo Melonbelly. "I knew of Hope (Nicholls) and Aaron (Pitkin) as significant local musicians, but didn't know about their record deals with Capitol Records in the '90s, and that I was in the presence of real rock stars. Donovan Collins traveled the world with a major reggae band, and Mike (Strauss) is one of the most talented musicians I know."
The 17-track CD "Playground Hootenanny," is a mix of traditional and original music from folk to hip-hop. Band members include Mike Strauss, Clifton Castelloe, Sergio Agraz, Hope Nicholls, Aaron Pitkin, Jon Schigoda, Dave Conlin, Rick Blackwell, Micaila Milburn, Beth Brown-AlRawi, Donovan Collins and Barbara Bonner. The CD was recorded at Castelloe's home studio while the kids were at preschool. Buy it locally at Manifest, Common Market and Boris+Natasha or go to www.plazafamilyband.com for more information.