9 Tips for Pediatric Dental Health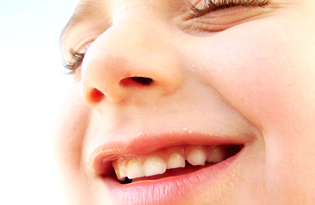 Tip #1: Baby's first dentist visit should be by their first birthday. Remember early examination and preventive care will protect your child's smile now and in the future.
– Brought to you by Dr. Brandi R. Jackson, Northeast Pediatric Dentistry
Tip #2: If your child has a toothache, rinse the irritated area with warm salt water and place a cold compress on the face, and make an appointment with your dentist.
Tips #3: As soon as a child's teeth begin to appear, brush twice daily using fluoridated toothpaste and a soft, age-appropriate sized toothbrush.
Tip #4: A dental sealant, a plastic coating that covers deep grooves on the chewing surfaces of back teeth, is an excellent tool for cavity prevention.
– Brought to you by Dr. C. Marshall Long, Laxer, Long and Savage
Tip #5: Use a "smear" of toothpaste to brush the teeth of a child younger than 2. For preschoolers, dispense a pea-size amount of toothpaste and assist your child's toothbrushing.
Tip #6: A mouthguard fitted by a pediatric dentist can protect a child from injuries to the teeth and face, and can provide protection from severe head injuries.
Tip # 7: Don't allow children to use sippy cups throughout the day. Save them for snacks and mealtimes, and only let children drink sugary drinks through a straw. 
– Brought to you by Dr. Robert Young, Young & Polite Children's Dentistry
Tip #8: If your child knocks out a permanent tooth, hold the tooth by the crown and try to reinsert it in the socket. Then head to the dentist.
Tip #9: Starting at birth, clean your child's gums with a soft infant toothbrush or cloth, and water.
Source: American Association of Pediatric Dentistry