8 Tips for Saving on DIY Projects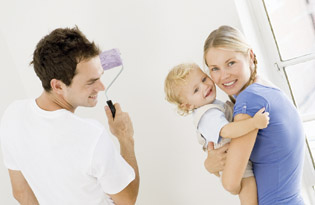 Perhaps your staycation plans include organizing all the toys and paraphernalia in the garage or converting the fourth bedroom upstairs into a playroom. Or, maybe you're finally going to paint the kids' bedrooms from nursery pink orlue to big-kid purple or green. Whatever your summertime project, consider the ways you can save when you do-it-yourself. And know, too, that GiftCardGranny.com is a great place to buy discount gift cards for popular home improvement stores, like Lowes, Home Depot and ACE Hardware.
1. Big Box Vs. Small Stores -?For the frugal family, shopping smart is always a logical first step. When you're shopping at the big-box home improvement stores like Home Depot and Lowes, there are always deals going down. These retailers are highly competitive, and both stores offer price-matching with an additional 10-percent discount on identical products advertised at a lower price at any competing store. Both stores also post weekly sales, discounts and rebates on their websites, so you can be prepared before you hit the store. On the other hand, locally owned home-supply stores, like Ace Hardware, often provide e-mail sign-ups that allow you to receive special deals on the same items you would find at the big-box stores. While you may not be able to purchase sheet rock, the smaller places may carry everything from paint to plumbing supplies.
2. Tester Cans and Used Paint– Painting is probably the easiest way to change the look of a room. If you only have a small space to paint, there's no need to invest in a whole gallon of paint that'll inevitably take up space in the closet or garage. Ask about small tester cans at $5 or less in a variety of colors. The word is starting to get out on used paint, too. When people order large amounts of custom paint, they often order too much. This paint gets returned to the stores, but the merchant can't put such cans back on the shelf with the rest of the paint. If you're in the right place at the right time, you might be able to get gallons of paint for around $5. Not all stores have used paint, but it doesn't hurt to ask.
3. Lumber in Bulk – Building a backyard playhouse or swingset and working with lumber can be intimidating. Without precise measurements and cuts, you'll end up wasting money and materials. Prices vary by lumber grade and wood type, so be aware of what materials are required to get the job done.
4. Generic Vs. Name Brand – There's an incredible variety of nails and screws available, but how much of a difference is there really? Generic brand nails and screws often are up to par with the name brands, but cost significantly less. In some cases, the only difference between a generic and the brand name is the box!
5. Government Rebates – Now is the time to replace old windows and doors with more energy-efficient ones. In an effort to reduce energy consumption, the federal government is continuing to offer tax credits when you install Energy Star-certified windows, doors and skylights. You can still get 10 percent off for $200 worth of windows and skylights, and a rebate of up to $500 for doors.
6. Reconditioned or Rented Power Tools – It's hard to justify buying an expensive power tool, especially when you know you'll never use it again. If you live the DIY credo, many stores rent power washers, paint sprayers, chainsaws and more. In addition, power tool manufacturers have online outlets, where they sell reconditioned tools at a discount. These tools are certified by the manufacturer, so you have a guarantee they'll work.
7. Used Hand Tools – The garage sale still may be king for finding good deals on hand tools. Many people don't enjoy the tools that get handed down from parents and grandparents, and they are willing to part with them for next to nothing. Wrench sets, hammers and screwdrivers made by quality toolmakers, like Craftsman and Stanley, can stand the test of time and are as good today as they were 30 years ago.
8. Community Teamwork – No one escapes home maintenance. If you and a neighbor are working on similar projects, sharing the cost of renting a paint sprayer or power washer can save both of you time and money. While skilled friends and family don't necessarily enjoy manual labor, they can be coaxed into it with the promise of good food, drink or a labor exchange to be named later. Working with friends gets the job done faster and usually is much more fun.
Consumer savings expert Andrea Woroch has been featured on the "Today Show," "FOX & Friends," MSNBC and more. Follow @AndreaWoroch on Twitter to receive daily savings tips.