8 Frugal Dating Tips for Parents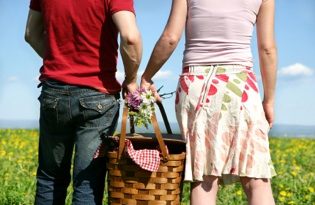 In order to spark a romantic connection, parents, whether single or married, need a night away from their kids. As exciting as that may sound, tight family finances make it difficult for moms and dads to get out of the house let alone have fun without the worry of their wallet on their mind. With a little savvy planning though, parents can create magical dates without blowing their budgets.
Stop stressing about money by following these 8 frugal dating tips:
1. Battling Babysitting Costs
Dependable babysitters are often expensive and can quickly hike up the total cost of a night on the town. Instead of hiring a teenager or nanny to watch the tots, consider swapping services with neighbors, co-workers, family or friends for a free night or afternoon out. Otherwise, check SitterCity.com for vetted local babysitters who match your needs and budget.
2. Enjoy an At-Home Date
If finding a babysitter in the last-minute is out of the question and budget, put the kids to bed early and create a romantic date-like experience at home. Set the mood with a candle lit dinner and dancing for two under the stars in your backyard.
3. Banish Booze
Even if you find a dining deal, like an early-bird special, a couple drinks can greatly add to the bill. You might want to hit a restaurant that doesn't serve booze or make it an afternoon date. Otherwise, plan to drink and dine at a restaurant or bar that offers happy hour prices.
4. Do-It-Yourself
Creativity goes a long way so plan a picnic and pack bottle of wine, some cheese and crackers, and portable speakers with your date's favorite music uploaded to your iPod.
5. Dial Into Online Discounts
Groupon, Living Social and other group-buying coupon companies offer some great deals – up to 50-percent off – on such entertainment experiences as wine tastings, boat tours, museums and comedy clubs. If you're worried about appearing "cheap," redeem the offer when your date is in the restroom. Buy a gift card at a discount from sites such as GiftCardGranny.com. They will save you anywhere from 5 to 50 percent on restaurants and other entertainment activities.
6. Find Freebie Dates
Not all dates are intended to include dinner and a movie. For a fun date idea that doesn't cost a dime, consider events and activities in your area that are free like hiking, biking or browsing a local flea market. Otherwise, many libraries and coffee shops offer free poetry readings and musical entertainment. Look for art gallery tours or free museum days to improve your cultural IQ while impressing your date.
7. Seek Smart Advice from Your Phone
Use your mobile phone to find local deals and date ideas. The Date Night iPhone app for example will help you find unique, interesting and affordable events that are sure to impress. The app randomly selects a "thing to do" for your next evening on the town, some of which won't bust your budget.
8. Makeshift Movie Night
Instead of shelling out $20 for movie tickets plus the cost of popcorn, soda and candy, consider hosting a movie night at home. You can pick up free DVDs from your local library or $1 rentals from Redbox. Recreate a theater like experience at home with fresh popcorn (extra butter per request) and your dates favorite candy. Then dim the lights and make sure to turn your cell phones off!
The trick to a successful date is having fun and not stressing out. If you find a suitable date, chances are they will enjoy spending time with you whatever you do regardless of how much money you spend.
Consumer savings expert Andrea Woroch has been featured as a media expert source on NBC Today Show, MSNBC, FOX & Friends, CNN.com, ShopSmart Magazine and many more. For more savings tips visit AndreaWoroch.com.