6 Cool Backpacks for Kids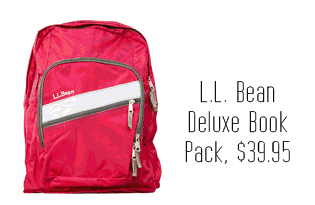 Backpacks are a lot more than just a place to keep schoolbooks and homework. They hold everything from lunches to laptops—and they can be statements of your children's personalities. Find ones they'll love with these suggestions.
The Classic
The L.L. Bean Deluxe Book Pack is so durable that the first one you buy may also be the last. While not the flashiest or most high-tech backpack, it's easy to customize with monogramming or fun prints. Two large compartments, as well as a small front one with organizers, are plenty of space for even the most overwhelmed high school student. $39.95, llbean.com.
For a Good Cause
The bags and backpacks by Forever Frogs are super customizable with lots of options for everything from the pattern on the straps to the color of the zippers. What's more, a portion of the proceeds from each purchase goes to The Payton Wright Foundation, which raises funds and awareness to fight brain cancer in children. $69, foreverfrogs.com.
Off to Preschool
With animal choices ­– including bees, hippos and zebras – a nametag on the inside and an adjustable mesh bottle pocket on the side, Skip Hop Zoo Packs are adorable and functional for preschoolers. The BPA- and phthalate-free backpacks are the perfect size for preschoolers who need a bag or just want to feel like a big kid who's already in school. $20, skiphop.com.
Go Girly
Girls can choose from loads of colorful, pretty patterns for the Hadaki Cool Backpack. Not only is it sassy and cute, it's practical with several pockets for school supplies, a key ring and a protective laptop pocket. The water-repelling exterior is easy to clean and helps keep books and homework dry in a sudden rainstorm. $70, hadakishop.com.
Roll On
The PB Teen Gear-Up Rolling Backpack makes it a lot easier to haul heavy textbooks, and it can double as great carry-on bag for travel. Extra-strong stitching increases its durability, and pockets for a laptop, an iPod and water bottles make it versatile, whether it's for school or a weekend getaway. Choose from a wide selection of patterns, from girly flowers to boyish camouflage. $79.50, pbteen.com.
Messenger
The Timbuk2 Classic Messenger comes in five sizes, with lots more options for customizing colors and pockets. Options for fabrics include high-performance and 100-percent recycled, as well as reflective and waterproof. The bags are made to be extremely durable and versatile, allowing them to function as carryall bags for years to come. $109 and up, timbuk2.com.