5 Tips to Keep Your Wellness Plan on Track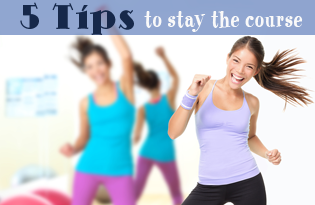 Prioritize: Make health a priority by scheduling gym time or group fitness classes into your day. Instead of letting your to-do list trump your workout plans, put workouts into your calendar just like you would any other important meeting and it'll be easier to find the time you need.
Prepare: Planning a menu for the week, prepping your produce on the weekends, and packing lunches at night instead of in the early-morning rush will help you avoid the temptation to order takeout or stop by the drive-thru. Keep nonperishable healthy snacks like nuts and dried fruit at your desk and in your kids' backpacks so you're ready when hunger hits.
Play: If you find yourself in a workout rut, take a break from the gym and go play with your kids. Ride bikes, take a hike or even teach them to tend a garden. You'll still get a calorie burn, and the kids will get quality time with you.
Partner up: Whether it's your spouse, child, best friend or colleague, having someone to hold you accountable will help keep you on track toward reaching your health and fitness goals. Open up and invite a little "tough love." It'll keep you honest.
Pick your battles: When you do skip a workout or grab a doughnut at your morning meeting, don't beat yourself up. Health is about a total lifestyle shift, not one week or one day or even one meal out of your life. Look at the big picture, celebrate your successes, acknowledge your setbacks, and start each day anew.
Read More: 


View all Family Wellness articles