5 Tips to Help Your Teen Feel Valued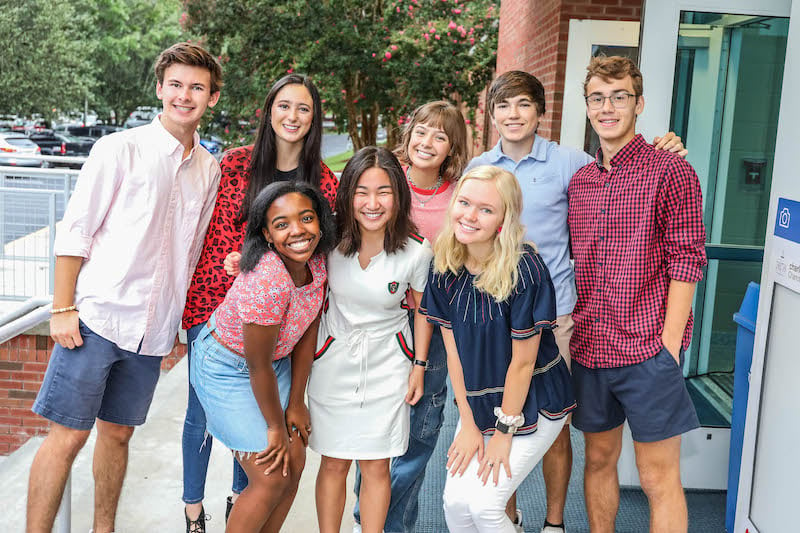 5 Tips to Help Your Teen Feel Valued
Feedback is important for students, but it can also make teens wonder if they're good enough. Here's what parents can do to help them feel valued.
What grade did you make on the test? Did you make the team? Did you get the role in the play? How many likes did you get on your social media post?
It seems to happen at every turn during the school year – students get evaluated on their performance in any number of activities. The feedback and evaluations seem to be everywhere, explains Jodi Foxx, Director of College Counseling at Charlotte Christian School.
She says all this academic evaluation serves a purpose, of course. "Grades provide benchmarks to measure whether or not learning is happening. Feedback gives students information about how they can improve and grow."
"Students come to recognize their areas of giftedness," Foxx says, "which is important to understand as they discern God's plans for their lives."
"We all need feedback."
But, for many students, there's an underlying question that goes along with every bit of evaluation they receive: Am I good enough?
Students can sometimes take feedback in one area and apply it to every area of their lives, Foxx says. A low score on one science test can translate into 'I'm not smart.' Teens are in a season of life when they're seeking to understand their worth as a person, and one negative bit of feedback can sometimes take on too much meaning in that quest to feel valuable.
With underclassmen worrying about the PSATs and seniors struggling with college admission decisions, there are new opportunities for students to wonder if they're good enough. You might have a teenager in your house currently in that frame of mind.
Foxx offers the below tips to help parents support a teen who is not so sure they measure up…
1. Talk to your child.
"Offer praise for effort and for growth in areas of difficulty," Foxx says. "Share your observations about the strengths you see in your child. Say 'I love you.'"
Foxx says expressing your love can either be done in casual moments of conversation or even through something as simple as a text message or a sticky note left in a strategic location.
"Reinforce your child's value often and in a variety of ways. Don't be subtle on this… Come right out and say it!"
2. Listen to your child.
No technology. No distracted focus. Just listen. If you'd like some help in getting the conversation started, Foxx suggests the book "How to Talk So Kids Will Listen & Listen So Kids Will Talk" by Adele Faber and Elaine Mazlish.
3. Spend time with your child.
What better way to communicate someone's value than to go out of your way to spend time together? Foxx urges parents to "make time for a daddy-daughter or mother-son date. See a movie together. Go bowling. Have a family game night…"
Although teens are busy and like to spend time with their friends, Foxx says, "that doesn't change the fact that time still equals love—even for an increasingly independent teen."
4. Volunteer together.
"CCS students are required to complete service hours; why not volunteer together as a family?" Foxx asks. "We all feel valuable when we take time to help others."
If you're not sure where to go, she suggests a few organizations that would welcome a family volunteering together: Bright Blessings, Crisis Assistance Ministry or Project 658.
5. Attend church together.
"There's more to life than the growing pains of adolescence, and the messages presented at church help all of us to take that long view in our lives," Foxx says. "Being reminded of our value as a child of God is the best medicine for a teen that wonders if they're good enough."
"Even our most successful teens, the ones who seem to have the Midas touch," Foxx explains, "need help in understanding their value. We ALL have shortcomings, and we ALL wonder if we measure up."
The counselor says parenting intentionally through the ups and downs of adolescence will yield dividends for years to come.
Bring your student to Charlotte Christian's upcoming upper school open house to experience life on a campus that ensures its students feel valued. The open house is on Wednesday, October 30, 2019, at 6:30 p.m.
---
"Are not five sparrows sold for two pennies? And not one of them is forgotten before God. Why, even the hairs of your head are all numbered. Fear not; you are of more value than many sparrows." -Luke 12: 6-7
Charlotte Christian School is a Christ-centered college preparatory school, equipping and developing students to effectively integrate Biblical truth and learning into their daily lives and to impact the culture for Christ. Learn more here.